Call for tougher suicide website action from internet providers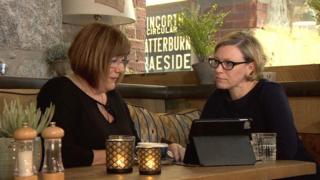 Internet providers are being urged to take a tougher stance over websites encouraging people to take their own lives.
A mother who lost her daughter to suicide is now being backed by an MSP who has written to search engine and social media providers asking them to act.
Jo Cruickshank was 36 when she took her own life in August 2015.
Her mother Deanna, from Buckie, is being backed by MSP Gillian Martin.
Jo had made online searches of suicide methods before she died, and come across sites giving out such information.
'Desperate situation'
Her mother is demanding action from internet providers, and has met the Aberdeenshire East SNP MSP to discuss what can be done.
Deanna said of seeing the suicide websites: "It sort of brought everything back from the time my daughter took her own life.
"Initially her laptop was taken away by the police, we got it back about six weeks later.
"The sites she had been looking at were still open. She had been looking at the best way to do it."
She explained: "There are so many people out there in a desperate situation.
"What they need is help, not these sites popping up.
"I'd like to see them taken down, I'd like to see these giants be more responsible about what's on their platforms. How can these sites exist?
"It makes me feel that Jo's death wasn't in vain if I can help somebody or a lot of people."
'Vulnerable people'
Ms Martin said: "What struck me the most was how professionally produced these websites were, and how quickly they come up is obviously shocking.
"They are targeting vulnerable people, I am really shocked by some of them.
"These websites should be taken down."
She has written to Google and Facebook, asking about policies on sites about suicide, and will also contact others.
'Help and advice'
The issue was raised at First Minister's Questions on Thursday.
Nicola Sturgeon commended the efforts, and said: "This is a very very serious issue.
"Search engine providers should always take responsibility for preventing access to any form of dangerous content."
A spokesperson for Google, one of the companies contacted, told BBC Scotland: "We know people turn to the internet for information and advice.
"That's why when you search for certain queries relating to suicide, we automatically show the Samaritans' 24-hour helpline number to connect people who are depressed, suicidal or in distress with the help and advice they need.
"It's also why we provide advertising grants to UK charities, including Samaritans, via the Google Grants programme so that their ads appear in Google against relevant search queries, for free."
If you are feeling emotionally distressed and would like details of organisations which offer advice and support, go online to bbc.co.uk/actionline or you can call for free, at any time to hear recorded information on 0800 066 066.