Gamekeepers search for missing sea eagle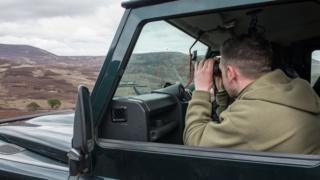 Gamekeepers and land managers from an Aberdeenshire estate have appealed for help in locating a missing sea eagle.
The bird's satellite tag was last recorded in woodland near the River Dee on the Invercauld Estate near Braemar.
The estate said its ranger and gamekeepers were working hard to find the one-year-old eagle, named Blue T, whose tag last signalled on Saturday.
Pellets are understood to have been found in the the search area, which suggest it had been roosting there.
RSPB Scotland confirmed Blue T was raised from a chick at Abernethy before it fledged.
The tag was said to be last operating within a native woodland and Scots pine regeneration zone on Invercauld.
But neither the bird nor its tag have been located within the woodland or estate.
One other sea eagle - also known as a white-tailed eagle - and two golden eagles have been spotted but there have been no known sightings of the missing bird.
Shooting estates are often blamed for bird of prey disappearances, but the Invercauld estate insisted it was committed to conservation.
Estate manager Angus McNicol said: "We have spent the last two days trying to locate any trace of the missing sea eagle and we will be continuing our efforts to watch the area in case there has been a technical malfunction of the tag and the sea eagle returns to roost again.
"For several months our ranger has been working with the RSPB's sea eagle project officer to track the movements of the sea eagles in our area and if the tag is no longer transmitting then it is a concern to us.
"Invercauld hosts a vast range of bird species and other types of wildlife and we want to learn if any harm has come to the bird.
The estate is part of the East Cairngorms Moorland Partnership with the Cairngorms National Park Authority and bird species include golden eagles, sea eagles, buzzards, merlin, kestrels, golden plover, curlew, lapwings and black grouse.
It also works with conservation bodies including the Royal Zoological Society of Scotland on their wildcat breeding programme
Mr McNicol added: "We realise that such cases where a tag stops transmitting will invariably attract comments about persecution but it is clear that gamekeepers, conservationists, and the Cairngorms National Park Authority all want to see this bird alive and well.
"We would ask anyone with information that could aid the search to speak to the RSPB or ourselves immediately."
'Highly suspicious'
Ian Thomson from RPSB Scotland told The National newspaper: "This bird fledged from a nest in Strathspey last year, and was one of only a handful of chicks successfully fledged by adults originating from the east of Scotland reintroduction of this species.
"The publication of the Scottish government's review of the fates of satellite-tagged golden eagles last May, provided unequivocal and damning evidence of the link between the highly suspicious disappearance of satellite-tagged raptors and criminal activity associated with grouse moor management.
"We believe that the Scottish government-supported project designed to deliver the population expansion of white-tailed eagles in the east of Scotland will be put in jeopardy if this situation persists."
Grant Moir, chief executive officer of the Cairngorm National Park Authority, said: "We condemn all forms of wildlife crime and the apparent loss of an iconic species like the white tailed eagle in the Cairngorms National Park is deeply felt by all working on conservation within the park.
"What seems clear to me and to many of those with whom I discuss these issues is that every time a golden eagle, a white tailed eagle, a hen harrier or any other bird of prey goes missing in suspicious circumstances or is found poisoned as has been reported last week in Perthshire, the greater the pressure grows for regulation to be given very serious consideration."