Crew of sunken boat 'were not prepared for scale of flooding'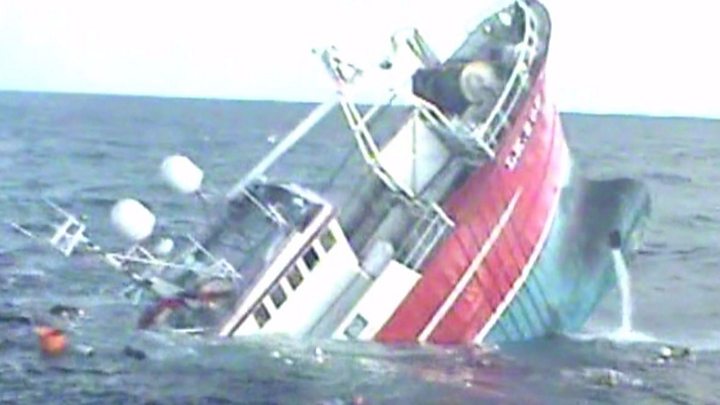 The crew of a fishing boat which sank off Shetland were not prepared for the scale of flooding they faced before they were forced to jump into the sea, a report has said.
Five fishermen were rescued as the Lerwick-registered Ocean Way sank in March last year following hull damage.
The Marine Accident Investigation Branch (MAIB) said onboard training and drills had not prepared the crew.
The MAIB has urged "regular, realistic drills" for flooding.
A lifeboat from Lerwick and the Coastguard helicopter had been sent to the scene to help.
Possible options
The fishermen jumped into the sea, less than a minute before the vessel sank.
The MAIB report said: "The crew of Ocean Way could not have done a great deal more to save their vessel.
"However, post-event analysis has shown that there were other possible options to consider. These included potentially increasing the portable pumping effort by early embarkation of the Coastguard helicopter's salvage pump, or containment of the flood by shutting off the compartment.
"However, it is uncertain that either of these actions would have saved the vessel."
The report continued: "Onboard training and drills had not prepared the crew of Ocean Way for the scale of flooding they faced on the day of the accident.
"Flooding presents an immediate and potentially overwhelming risk to fishing vessels - it should be considered as dangerous as a fire.
"Industry guidance is clear that when a flood is detected, the crew's top priority must be to bring the situation under control ahead of other considerations. Every effort must be made to control the flood by maximising pumping, keeping suctions clear and considering all available options."
'Realistic drills'
It added: "The only way crews can be as prepared as possible to deal with foreseeable emergencies is to conduct regular, realistic drills.
"Use these as an opportunity to develop and then practise potential coping strategies in the event of major flooding."
Alan Tarby, the coxswain of the Lerwick lifeboat, said at the time of the rescue: "Just as we got along, the boat started to sink and the boys all jumped off the boat into the water alongside the lifeboat and we sort of fished them into the boat and hoisted them aboard.
"The final moments of the boat were of it sticking out the water. It slid into the water so quickly. It went down within seconds - it was less than a minute from when they decided to jump to when she disappeared."