Northern Isles ferry contract process to start in June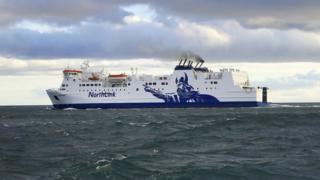 The tendering process for the next Northern Isles ferry contract will start next month.
Transport Minister Humza Yousaf said the procurement process for routes between mainland Scotland and Orkney and Shetland would get under way in June.
The contract is expected to be awarded in summer 2019.
Mr Yousaf said local communities had made it clear that they wanted the contract to be put out to tender.
In 2012, ministers awarded a six-year contract to Serco.
'Certainty they need'
Mr Yousaf said: "We have always said we would take the views of the local community into account when it came to the procurement of the next Northern Isles ferry services contract.
"Through the consultation process, it's become clear that the preference of the local communities is for this contract to be put out to tender rather than a direct award to an in-house operator."
While ferry firms will have to bid for the routes to Orkney and Shetland, Mr Yousaf said he still planned on giving the next contract for the Clyde and Hebrides services direct to state-owned CalMac.