Tories leave Moray Council's ruling coalition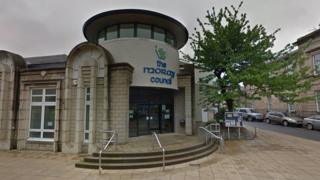 Conservative councillors have withdrawn from the ruling coalition at Moray Council.
Seven of the eight members walked away from the administration following a row over the authority's senior management structure and disagreement over how best to modernise the council.
Until now, Moray Council was run by a coalition of Tories and independents.
A Moray Council spokesman said council leader George Alexander was in talks with opposition parties.
A spokesman for the Conservative group said the decision followed years of Scottish government cuts to the council's budget which had brought the council to the brink of bankruptcy.
'Great regret'
The spokesman added: "It was clear that opinions were divided on the advertisement of two £90,000 management posts.
"Recognising the differences of opinion the Conservative group asked if thought would be given to a co-leadership position where one councillor could continue with the day-to-day political management and the other focus on change and transformation including looking at shared services. This was refused."
Conservative group leader, Councillor Tim Eagle, said: "It is with great regret that we have decided that we cannot continue. Moray Council faces enormous financial challenges and in our opinion there needed to be a much more developed programme of change and transformation along with a review of senior management and how the council is structured.
"We cannot continue in the same old way. There is clearly no appetite for the changes we feel are essential and the result is deadlock.
"We are very unhappy about the lack of progress that has taken place in recent weeks to address the issues facing the council and we simply cannot allow the situation to drift any longer.
"I hope that Councillor Alexander, for whom I have great personal respect, will reflect on what has happened and why."
'In talks'
The councillor, who represents Buckie, added: "Our door is always open but we will not participate in the administration unless there is a commitment to change and reform. Unless we do that we will see the essential services the council provides sliced away."
A spokesman for Moray Council said: "This morning Conservative councillors that formed part of the coalition administration of Moray Council with independent members announced that they have left the group.
"The move leaves five independent councillors and one non-aligned Conservative as a minority-ruling administration. The council leader is in talks with opposition parties.
"Senior management are meantime working with elected members to assist the way forward, and a further update will be issued as the situation progresses."