Labour councillors suspensions to be looked at again in July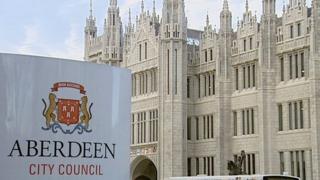 The fate of nine suspended Aberdeen city councillors will be considered by Labour's governing body next month, BBC Scotland understands.
They were suspended for disobeying former leader Kezia Dugdale's instructions not to form a coalition with Conservative councillors following last May's local government elections.
It is more than a year since the action was taken
The National Executive Committee will consider the case in early July.
Not an option
The party had continued the suspension in November, saying the group needed to prove they were anti-austerity when setting the local authority's budget.
But no final decision to reinstate or remove them has yet been taken.
The party's Scottish Executive Committee will make a recommendation to the NEC.
It is understood continued suspension is not an option.