Shetland ponies helping dementia patients in Aberdeen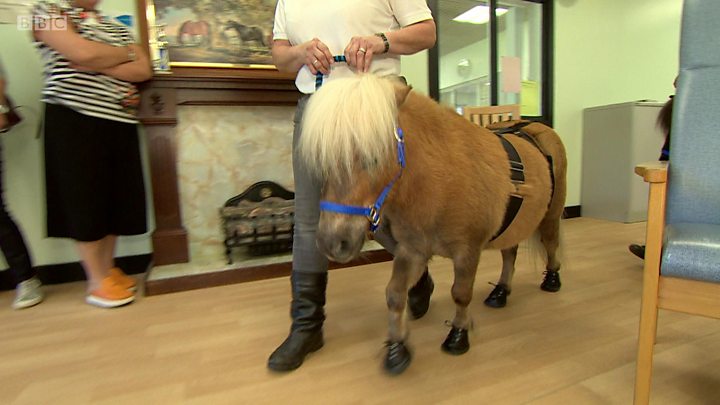 Shetland ponies have been visiting dementia hospital patients in Aberdeen as part of a new therapy.
The miniature ponies are specially trained as therapy pets and have already been brought into care homes with positive results.
BBC Scotland has learned the ponies are now being introduced by NHS Grampian.
The visit to Royal Cornhill Hospital is thought to be the first time the ponies have been used in a mental health facility in Scotland.
Two of the ponies - Wilson and Applejack - were described as "beautiful" by patients.
'Everyone is smiling'
The aim of Therapy Ponies Scotland is that they bring a mixture of calmness and joy.
Michelle Dunne, dementia day hospital manager, said: "I've never felt such a buzz - patients have been so excited.
"Everyone is smiling, happy, I think it's one of the most positive days we've ever had on the ward.
"Patients have been reminiscing about the times where they lived on farms, or talking about when their family had horses. It's been amazing"
Elaine Sangster, of Therapy Ponies Scotland, said: "The responses that the ponies evoke from the residents is amazing.
"They cuddle them, they kiss them, they throw their arms around them, it's lovely to see them so happy.
"It takes them back to times in the past when they maybe had ponies or associated with ponies."