Inside Scotland's 'village of dreams'
By Debbie Jackson
BBC Scotland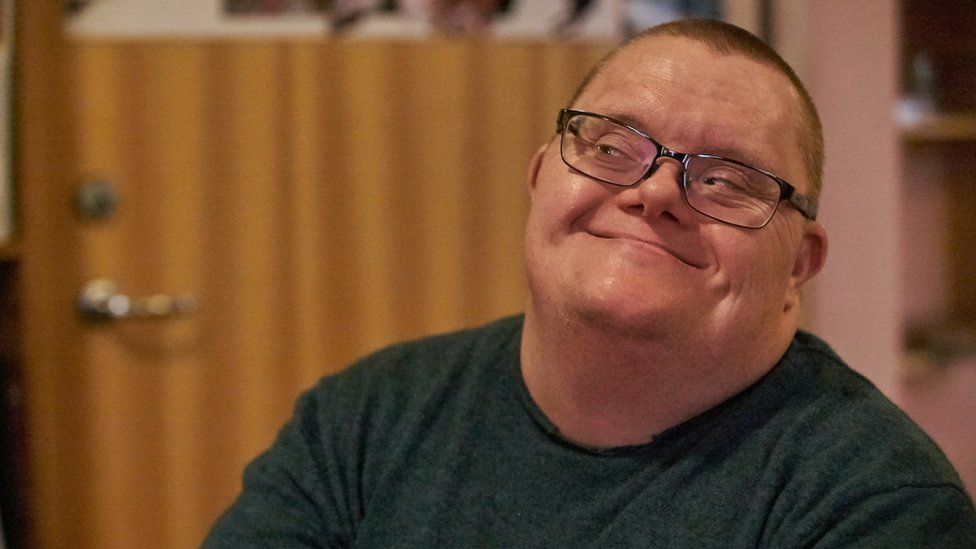 It is talent night in Newton Dee, one of the few places in Scotland where people with learning difficulties and special needs can live fully integrated into village life.
On stage, Ali is sporting full Kiss-style make-up and belting out Paint It Black by the Rolling Stones. He nails it.
One of the judges screams: "There's no dilemma - it's a yes from Emma".
Newton Dee is part of the Camphill movement, whose communities are run as charities with no division between carers and the cared-for.
Jake came to Scotland 10 years to spend his gap year as a co-worker at Newton Dee.
He stayed, raised a family there, and now shares his home with members of the community.
"Yes, I'm sharing my family life with a group of people but I get to be around because I work here and I see my kids a lot."
The home life of the village is based around large and small households ranging from four to 16 people.
The charity provides housing and work. People can work a gap year there or move permanently as long-term volunteers.
Sometimes one turns into the other.
The village provides for its own, and what it does not generate itself, the charity provides a budget for.
Any surplus cash generated through the shop or the cafe goes straight back into maintaining and improving the village.
There are 36 comfortable houses in 180 acres of wooded grounds, with schooling, a bakery, coffee shop, organic farms and community meeting places.
Aberdeen's Camphill community is special because it was the first.
Now, more than 100 villages which share the same ethos are thriving in more than 20 countries across Europe, North America, Southern Africa and Asia.
The man with the vision - Dr Karl Konig
The Camphill Movement was founded by Dr Karl Konig, an idealistic paediatrician from Vienna. He dreamed of creating a community to help children with special needs.
Born to Jewish parents, he attracted a following among young students in Vienna. When Austria was annexed by the Nazis he fled and regrouped in Scotland.
He set up the first community for children with special needs in 1940, named after the Camphill Estate in the Milltimber area of Aberdeen, where it was built.
The movement is an initiative for social change, building residential communities and schools that provide support for the education, employment, and daily lives of adults and children with developmental disabilities, mental health problems, or other special needs
Back in the village, Jake explains how it works.
He says: "When Camphill was started the idea was that nobody was paid, you gave freely of yourself, and you trusted that the community would look after you. And that's more or less how Newton Dee still operates.
"All of the long-term co-workers don't get paid in the traditional sense.
"That doesn't mean we don't have money to go and buy clothes, or go out to eat or to go to the cinema - we still do those things - but we just don't receive a cheque.
"We operate out of the ability of the community to be able to support us."
Jake arrived in Newton Dee as a volunteer because he fancied going to Scotland for a year.
He says: "I wanted to do something different and I was avoiding going to university. I loved the work and I met a girl - that helps."
"What we actually do here at Newton Dee is to support people to have professions, jobs, independence.
"You come to work in the joinery, the farm, the garden, you work in the houses cooking and cleaning, you learn skills to have a social identity.
"You no longer say 'Hi, I'm Jake, I have Down's syndrome', you become 'Hi I'm Jake, I'm a baker'."
Jake says the "lady of the house" in his home is Carla.
A real character, she teases Jake constantly.
Carla's boyfriend is the talent show's Rolling Stones fan Ali.
She says: "I asked Ali to go out with me and he said yes. I decided he was my boyfriend because I love him."
Ali moved to Newton Dee after his mother died and his father struggled to cope.
He admits: "I thought because of so much loneliness, I wouldn't be able to carry on much longer on my own."
Now Ali works on one of the farms, his father and sister are able to visit him and he looks forward to taking Carla to the cafe every Saturday.
The farms at Newton Dee keep cows, pigs and chickens. Milk, meat and eggs are all produced there and two organic gardens supply the village with fruit and veg.
Katie works at the Roadside Garden.
As she plants vegetable seeds with co-worker Scotty, she talks non-stop about her girlfriend Steph - who skied in the Special Olympics.
Katie lives with house parents Holly and Finn, who moved to the village last year.
Holly has helped Katie deal with her feelings for Steph.
She says: "It's quite an intense relationship and they do need a bit of guidance sometimes.
"They're in love and that's great but they don't need to spend 24 hours a day together, they can have some time apart!"
Sometimes a village romance can lead to a happy-ever-after.
Ingrid, who works in the bakery, met John in the village and they have been married for 10 years.
She says: "I met him out cycling. I proposed to John. I got down on one knee."
Backstage at the village show, Ali gets a congratulatory hug from Carla.
He is through to the finals proving he, and Newton Dee have, indeed, got talent.
Related Internet Links
The BBC is not responsible for the content of external sites.