First world buttery championship to be held in Aberdeen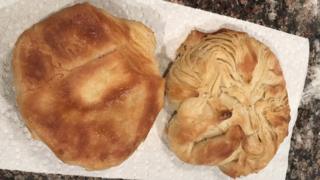 A competition aimed at finding the world's best buttery - the famous Aberdeen delicacy made of lard, butter and sugar - is being held this weekend.
The humble buttery is also known as a rowie or Aberdeen roll.
The first World Buttery Championship will be held on Saturday at North East Scotland College (NESCOL) Aberdeen city campus.
Organisers Slow Food Aberdeen City and Shire have asked professionals and amateurs to take part.
Historically the buttery was taken on boats by fishermen sailing from ports up and down the north east coast.
It was favoured because of its high fat and salt content which gave it a long shelf life.
Event co-ordinator Martin Gillespie said: "With the World Buttery Championship we hope to promote the traditional buttery recipe in order to help preserve the heritage of the buttery and to remind people what a buttery should really taste like."
The competition will be judged by local professionals and Slow Food Aberdeen City and Shire committee members.