Probe into gravestones at Peterhead caravan site extension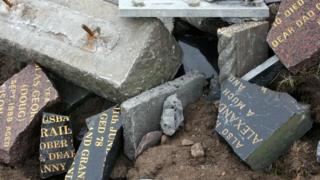 The owners of an Aberdeenshire caravan park have apologised after large fragments of gravestones were discovered in rubble used to build an extension.
Work has been taking place to extend Peterhead Lido caravan park.
The site's owners said they had not been aware of the sensitive nature of the material when it was dumped, but have now removed it.
An investigation is under way, and they apologised for any upset caused.
It is not clear where the fragments came from.
Aberdeenshire Council said planning permission was granted to the operators to extend the site.
A spokesman said it was acceptable for rubble and debris to be used to level out a site, but it was up to the developer to get the material from a suitable source.
The council said it has had no reports of stolen gravestones from any graveyards.