First world buttery champion crowned in Aberdeen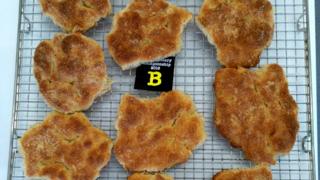 A competition aimed at finding the world's best buttery was won by a man who started making them after his local bakery closed.
The humble buttery - the famous Aberdeen delicacy made of lard, butter and sugar - is also known as a rowie or Aberdeen roll.
The first World Buttery Championship was held on Saturday.
Mark Barnett, from New Pitsligo, was crowned the winner from the 10 finalists.
He said: "When the local bakery in New Pitsligo closed down we couldn't get fresh butteries in the village, so I started making some for the Gold n Crispy cafe in New Pitsligo.
"Now I'll have to put a sign on the counter saying they are the best in the world."
Runner-up was Steven Forbes from Herd's Butchers in Aberdeen, with Michael Duffus from Ritchies Bakery in Inverurie in third place.
Historically the buttery was taken on boats by fishermen sailing from ports up and down the north east coast.
It was favoured because of its high fat and salt content which gave it a long shelf life.
The contest was organised by Slow Food Aberdeen City and Shire.
Event co-ordinator Martin Gillespie said the aim was to remind people what a buttery should really taste like.