'World's fattest hedgehog' placed on diet and exercise regime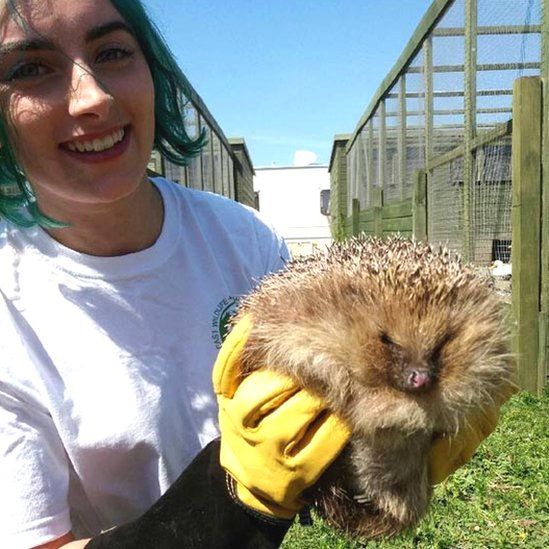 A hedgehog which it is thought could be the world's fattest has been placed on a strict diet and exercise regime.
Weighing in at 2.335kg (5lbs) - about four times the size of a normal hedgehog - it was handed in to a rescue centre in Aberdeenshire.
Now named Arbuckle, the hedgehog could barely walk or form a defensive ball.
Keith Marley, of The New Arc Animal Rescue Centre, near Ellon, said: "He's about the size of a World Cup football, after overfeeding."
Mr Marley said it was the heaviest hedgehog they could find a record of.
He told the BBC Scotland news website: "We were really surprised by his size and weight, as the average is about 600g.
You may also be interested in:
"The person who contacted us said he was feeding hedgehogs but this one stayed and refused to go - this may well have been due to the fact he could hardly walk.
"He will be fed a restricted diet which is filling, and scatter his food around for exercise. It will be a long, gradual process."
Mr Marley added: "He will be grumpy for a while but we're being cruel to be kind. There is no way he would survive in the wild."
The 1.8kg (4lb) hedgehog piled on the pounds after being hand-reared on a diet of dog food and mealworms.
Related Internet Links
The BBC is not responsible for the content of external sites.