Dr Gray's maternity downgrade 'does not put mothers-to-be at risk'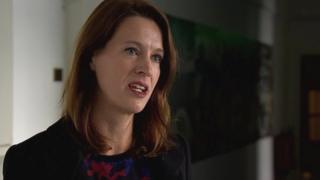 Mothers-to-be will not be put at risk by the downgrading of maternity services at Dr Gray's Hospital in Elgin, Scotland's chief medical officer has said.
Some pregnant women who are considered to be medium to high risk will soon need to travel to Aberdeen or Inverness to give birth.
NHS Grampian said it was the only option given low staff numbers.
Catherine Calderwood said she had received guarantees about the move.
Dr Calderwood was speaking during a visit to Dr Gray's on Tuesday afternoon, amid some local concerns.
She said of the new arrangements: "I am absolutely sure this is the right thing to do."
Scottish Health Secretary Jeane Freeman had told BBC Scotland's Good Morning Scotland programme last week: "The downgrade is temporary. It is driven by patient safety.
"Before agreeing to that I made absolutely sure I had the right assurances and detail to make sure women in that area would be safer as a consequence of the downgrade."
The Keep MUM (Maternity Unit for Moray) group has been campaigning to protect services at Dr Gray's.