Aberdeen FC fan gets Derek McInnes tattoo on leg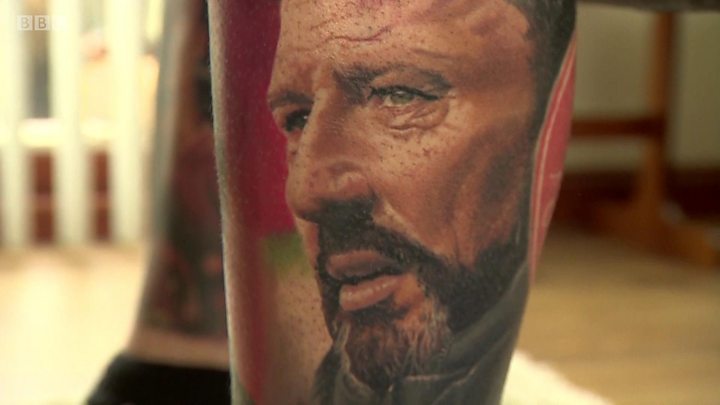 An Aberdeen fan has had a large image of club manager Derek McInnes tattooed on his leg.
Neil Cameron, 32, already had the club crest permanently emblazoned on his body, as well as favourites from his other passion, Manchester United - including Sir Alex Ferguson who managed both teams.
Cristiano Ronaldo and David Beckham are among his other tattoos.
Mr Cameron said he wanted to honour the manager's contribution.
Mr Cameron, from Peterhead, told BBC Scotland: "I got McInnes because of what he's done for the club over the last five years.
"My parents weren't too keen, my mum didn't know who he was, she's not a football person, but they like it now.
"I just got it for myself. I didn't expect it to blow up like this."
He added: "I'll show him it if I'm ever at Pittodrie with shorts on. I don't know what I'll do if he ever shaves his beard.
"The reaction has been mostly good. Everyone loves the detail, can't believe how good it looks. I've got a few friends that support Rangers so there's been a bit of banter about that. It's been a good laugh."
'Holding the cup'
Mr Cameron acknowledged that Derek McInnes would probably leave the club one day.
He said: "I know that, but I got it because of what he's done for the club, and hopefully he doesn't go to a rival team."
He also has a tattoo of former Aberdeen captain Russell Anderson.
He added: "Next I'm going to get Roy Keane, Eric Cantona, and a tribute to the Munich disaster. On the Aberdeen side I'm going to get Neil Simpson, Eoin Jess, a tribute to Gothenburg, and Willie Miller holding the cup."
The man behind the McInnes artwork was tattoo artist Simon Smith, of Yarson Tattoo Studio in Aberdeen.