Volunteers to remove 'destructive' Himalayan balsam at Inverbervie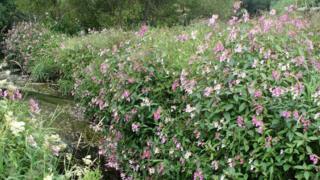 Volunteers are being sought to help to slow the spread of a destructive species of flower in an Aberdeenshire town.
Himalayan balsam is beginning to take hold on the banks of the River Bervie in Inverbervie.
The Scottish Invasive Species Initiative (SISI) - a project led by Scottish Natural Heritage (SNH) - needs volunteers to help remove the flowers.
It shades out native flowers when it grows densely.
The SISI, in collaboration with Brighter Bervie and Inverbervie Angling Association, is asking the community to help on Sunday 29 July from 10:00 - armed with gardening gloves - to help remove the flowers.
'Taking action'
SISI project officer Mark Purmann-Charles said: "Himalayan balsam originally escaped from gardens and has been spreading ever since throughout the countryside causing problems for our native wildlife - but we are taking action and aiming to remove it from the Inverbervie Bay area with the help of the community.
"It has a really shallow root system which makes it easy to pull out of the ground by hand, so anyone, young and old, can come along and help."