'Locked-out' Crovie villagers call for urgent road action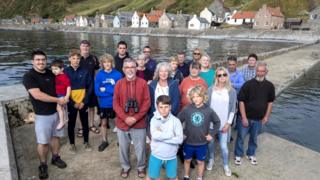 Residents of an Aberdeenshire village who feel they have effectively been "locked out" for 10 months due to a closed road want a swift resolution.
The only road into Crovie has been closed to vehicles since last September due to stabilisation safety work.
It can still be accessed on foot.
Residents and those with holiday homes are calling for the road to reopen as soon as possible. Aberdeenshire Council said the work had proved "complex" and the road is due to reopen in November.
The landslip work is costing hundreds of thousands of pounds.
'Tourist attraction'
A quad bike and trailer were provided from June to help with the transport of groceries, and luggage for those renting properties during the summer holidays.
Access for emergency vehicles was already agreed.
However, villagers say the situation is hitting tourism, and is also especially hard on older residents.
One 'Road closed' sign has had 'forever?' added to it.
Sandy Kilpatrick, 76, who has had a home in Crovie for 48 years, told the Sunday Post: "It has been torture.
"Crovie is an international tourist attraction. It brings prosperity to Aberdeenshire.
"Touting it as a place to visit, and then closing the road into it, gives a bad impression of Scotland."
He added: "We pay our taxes and are entitled to access. Some people in their late years have been unable to visit the homes they have had for tens of years, they are effectively locked out."
'Mitigate the effects'
Philip McKay, the council's head of roads, landscape and waste services, said: "The design of the stabilisation and drainage works for the road and the slope below proved more complex than anticipated and this unfortunately delayed the issue of tender for the works.
"Work is now expected to start in early August, with the road reopening to traffic in mid-November."
He added: "While the delay has been unfortunate and unavoidable, we have attempted to mitigate the effects of the closure on residents and businesses and will continue to do so until the works are complete and the road reopened, communicating regularly with the community.
"We appreciate the ongoing road closure is causing some difficulty for the community, but clearly this is an extremely complicated and technical situation, demanding not only significant professional expertise but also significant sums of money."
The work was needed as the road surface had deteriorated following Storm Frank in January 2016.