'Good progress' in removing cargo and fuel from grounded ship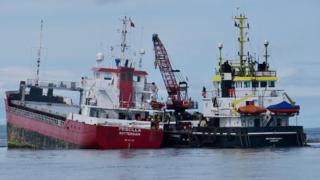 "Good progress" is being made to remove cargo and oil from a vessel which has run aground in the Pentland Firth.
The Dutch-registered Priscilla got into difficulties in the early hours of Wednesday 18 July.
Several attempts to refloat her failed, and so her owners brought in salvage crews.
The Secretary of State's Representative for Maritime Salvage, Hugh Shaw, has said operations to prepare the vessel for a refloat were progressing well.
He told BBC Radio Scotland that the vessel had been carrying 3,000 tonnes of fertiliser.
Mr Shaw, who is overseeing the operation, said: "Good progress is being made and the agreed quantity of bunkers has now been safely removed from MV Priscilla. I am pleased to report that operations to prepare the vessel for a refloat are progressing well."
Over the last day, the salvors have removed 28 tonnes of marine gas oil from the vessel.
Fifteen tonnes will be left for essential services, as the six-person crew remain on board.
Since Monday, more than 270 tonnes of cargo has been removed to a reception barge, which is taking the fertiliser to another vessel at Windwick Bay, South Ronaldsay.
A second barge is now loading cargo, and operations will continue until 1,350 tonnes have been removed in order to lighten the vessel.
Pressurised air will also be pumped into the ship's tanks, ballast will be removed, and an attempt will be made to refloat the vessel on high water.
If successful, a brief inspection will take place before the ship is towed to a safe location for more in-depth investigations.
The Temporary Exclusion Zone remains at 1,000 metres while the operation and activity is ongoing.
Hugh Shaw said the salvage crews would be trying to minimise any risk of pollution.
"Every effort will be made to get the fertiliser safely into the barges. I'm told it will disperse naturally. But at the moment, there's still some value in the cargo.
"So the barges will take it to a safe haven, transfer it from the barges into a cargo ship and that will put the product back into the market at a later date.
"There's certainly no intention of losing any of it at this time."
He cautioned that salvage "is always difficult at the best of times".
But he said he had "every faith that what can be done, is being done". He sdded: "I've got adequate resources on scene."