Missing budgie reunited with owner after being found by pet cat
By Ken Banks
BBC Scotland North East reporter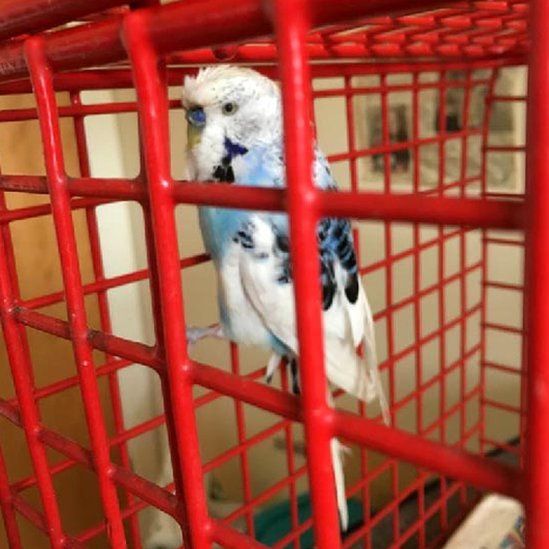 A budgie which was missing for six weeks has been reunited with its owner - after a pet cat caught it.
Penny Campbell had almost given up hope of ever seeing Rosie Bloom again after escaping in the Stonehaven area.
However, a cat living about a mile away brought the budgie into its house and the owners managed to catch it and take it to a local vet.
The budgie's owner told the BBC Scotland news website: "It's a miracle - I am so grateful."
The 47-year-old explained: "Rosie Bloom escaped from the conservatory six weeks ago. I looked outside for days. I was desperate.
"Then I got a text message telling me to look at a Kirkton Vets Facebook post, she had been handed in after being found by a cat.
"Rosie Bloom had been living wild and must have been feeding herself.
"She's now back in the comfort of her own home and seems fine.
"To me, it's the most amazing story ever."
'Determination to survive'
Prof Dame Sue Black - the owner of seven-month-old Bear the cat - said: "We are used to him bringing in mice and birds.
"We were sitting in the dining room and heard an almighty squawking - it was a budgie, we thought where did he get a budgie from? He was ever so proud.
"He went to go and catch it again - it was like a farce as we tried to catch the poor thing.
"It's testament to its determination to survive."
Prof Dame Black added: "We put the budgie in the cat's box and took it to the vet.
"It's a happy ending - I am delighted."