Investigation into smell complaints in Torry area of Aberdeen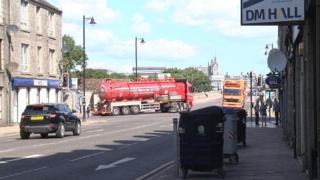 Complaints made by residents of the Torry area of Aberdeen about a bad smell in the area are being investigated.
The Scottish Environment Protection Agency (Sepa) said it had been made aware of the odour reports in recent days.
Sepa said it was working with the city council to establish the possible source of the smell.
The agency said it could be exacerbated by the warm weather.
There are large number of commercial and industrial premises in the Torry area.
Kim Main, manager of the Grampian Bar on Torry's Victoria Road, told BBC Scotland: "It's impossible to describe it, it's absolutely vile, it's stinking.
"We've had to keep the doors closed, which is making the bar in this weather really, really hot.
"It's a choice of open the doors, the smell comes in, or close the doors and try and keep the smell out.
"It's too hot and humid in the bar, but the smell takes over.
"I want someone to take action."
Local resident Ann Brown said of the area: "The Torry pong doesn't give it a good reputation."