Robert Gordon University principal to step down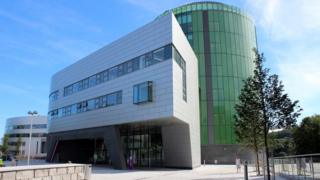 The principal of Robert Gordon University in Aberdeen is to leave after a row over business interests.
A university investigation found that Prof Ferdinand von Prondzynski did not declare a business link to a man who was appointed as a vice-principal.
It found no evidence, however, that he tried to deliberately conceal anything concerning the appointment of Gordon McConnell.
Prof von Prondzynski will step down on 31 August.
He will be succeeded by Deputy Principal Prof John Harper.
Gordon McConnell and Prof von Prondzynski were co-directors of an Irish company, Knockdrin Estates Limited.
Mike Fleming, the chairman of the university's board of governors, said: "The way this matter has played out in public has had a damaging impact on the university and has been a testing time for all those involved.
"We respect Ferdinand's decision, which we know he has taken in the best interests of protecting the university's well-deserved and hard-won reputation.
"We would like to thank Ferdinand for his service to RGU."
He added: "It is now vital that we have a strong and united leadership team and we are very pleased to confirm that Prof John Harper has been appointed as the new principal.
"John is a widely-respected and popular educational leader who will provide continuity, stability and energy to drive the institution forward."
'There was an oversight'
The university has also announced that its vice principal for research, Prof Paul Hagan, has withdrawn his resignation.
In a statement released through the university, Prof von Prondzynski said: "The investigation into the alleged conflict of interest regarding the appointment of Gordon McConnell found that the appointment was properly made and that neither Gordon nor I intentionally sought to mislead.
"There was an oversight on my part, for which I have already taken full responsibility.
"I recognise that the outcome of the investigation has caused division and therefore had a damaging impact on the university's reputation, which I personally hugely regret.
"Therefore, my main reason for deciding to step down is to allow RGU to recover from these events. I am confident it will do so quickly."
'Jobs for the boys'
The manner in which the university has chosen its new principal has been strongly criticised by the University and College Union (UCU).
It has described the approach as "jobs for the boys".
UCU Scotland official Mary Senior said: 'It is disappointing to learn of Prof von Prondzynski's resignation.
"While we've not agreed on everything, particularly at a local level, he has made a significant contribution to higher education in Scotland."
She added: 'It is ironic that while he made such a huge contribution to improving university governance, his former university is shoe-horning in his replacement without any recruitment process.
"It is particularly galling to see this jobs for the boys approach at a time when there is considerable debate about the need for more diversity in senior positions in universities and society at large."
Responding to the comments from UCU, a spokesperson for RGU said: "Prof John Harper's appointment was in line with the university's recruitment procedures. The board acted decisively in securing stability and continuity for the university in the appointment.
"Prof Harper was the ideal candidate having previously held the position of interim principal for 12 months, proving to be very effective at the role and demonstrated his leadership qualities.
"He is widely respected and a popular educational leader who has the experience to provide continuity, stability and energy to drive the institution forward."