Aberdeen midwives unit 'could be closed until September'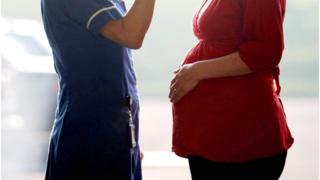 The midwives unit at Aberdeen Maternity Hospital could be closed until the end of September due to staff shortages, BBC Scotland has learned.
NHS Grampian announced in May the unit would be temporarily moved to the labour ward for about three months.
The health board has now said the co-location will continue until newly-recruited graduates from Robert Gordon University (RGU) start in the autumn.
It comes as Aberdeen Maternity Hospital is under increasing pressure.
'Reviewing timeline'
Maternity services at Dr Gray's Hospital in Elgin have been downgraded due to staff shortages, so women with medium to high-risk pregnancies are now being transferred to Aberdeen and Inverness to give birth.
A spokesman for NHS Grampian said of the current Aberdeen co-location: "This will be towards the end of September however, the midwifery manager responsible for the alongside midwifery unit, is currently reviewing the timeline to explore the possibility of reopening following further successful recruitment to health care support worker posts."
In February last year, the Aberdeen midwife unit reopened two months behind schedule after being affected by similar staff shortages.