Aberdeen City Council tackles 'period poverty' with £40,000 for schools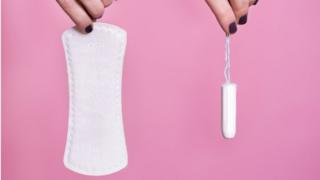 Aberdeen City Council has announced £40,000 of funding for free sanitary products in schools in a bid to tackle period poverty.
It follows a pilot last year to provide tampons and towels to women and girls on low incomes in Aberdeen.
The new initiative gets under way on 17 September.
Education operational delivery vice convener Lesley Dunbar said: "We are proud to invest to ensure the dignity and wellbeing of our young people."
Each secondary will offer a range of free products. Primary schools will offer free sanitary towels.
The funding is in addition to the Scottish government's distribution of funds for access to free sanitary products in schools until March next year.