Union Terrace Gardens 'on track for autumn start' despite no contractor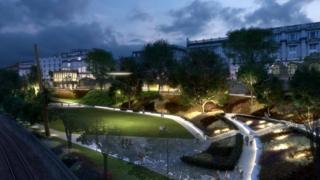 The co-leader of Aberdeen City Council hopes work will begin on the multi-million pound redevelopment of Union Terrace Gardens this autumn despite a contractor not yet being appointed.
Plans to transform the Victorian sunken gardens were approved in March.
The £25m proposals include new walkways, an amphitheatre and a cafe.
Council co-leader Douglas Lumsden said the start timescale was still possible, but SNP group leader Stephen Flynn called for "clarity".
Councillors were initially told the project could be completed in 2019.
Following a lengthy planning process, it was confirmed in March that the completion date would be 2020.
Mr Lumsden told BBC Scotland: "We are going through the tender process just now, and as soon as that is complete we want to nominate a contractor and try and get the work started as quickly as possible.
"It will be another few weeks before that process would be complete and then we would move onto the next stage.
"I would still like to see it start this autumn - I would not like to commit definitely, but that is what we are aiming for."
'Key project'
Mr Flynn said: "There are always problems with the planning process, that's understandable.
"What we need to accept here is the fact the planning applicant was the council, and the planning authority was the council.
"The key issue here is the fact that councillors were told this project would be finished by late 2019, we are now being told some unclear date in 2020.
"I think we need clarity. We are talking about a key project in the heart of our city."
In 2012, councillors rejected plans for a £140m transformation of the gardens.
Businessman Sir Ian Wood had offered £50m towards the cost.