Second council considers scrapping controversial P1 assessments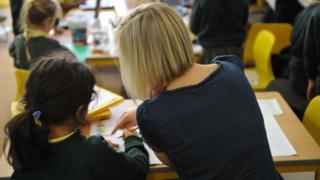 A second council is to look at whether it can suspend the controversial Primary 1 assessments.
East Lothian Council's administration has asked council officers to explore whether it has this power.
Councillors in Aberdeen made a similar move on Thursday.
On Wednesday, MSPs backed a Conservative motion calling on the government to scrap the scheme, which sees P1 children assessed in numeracy and literacy.
The standardised assessments were introduced across Scotland last year, although many councils already had local schemes in place.
The assessments - dubbed tests by critics - provide diagnostic information for teachers. They are done on a computer and are designed to seem informal.
They have been condemned by opposition parties while a campaign, backed by the EIS union, urges parents to ask schools not to put their children through them.
Non-binding
The parliamentary vote was not binding on the government, and Education Secretary John Swinney said councils should continue with the assessments.
East Lothian Council - which is run by a Labour minority administration - told BBC Scotland it has asked its officers to explore whether the Council has the power to suspend them locally.
It is not clear whether councils do have a legal right to withdraw from the scheme but any attempt to do so is likely to meet strong government resistance.
A number of other councils have confirmed they intend to carry on with the assessments.
Fife Council's Education and Children's Services Convener is the mother of a Primary 1 pupil and backs the scheme.
Councillor Fay Sinclair explained: "Fife has used standardised assessments in P1 for 10 years, and assessments at other stages for even longer.
"These assessments are an important means for teachers to identify a child's next steps in learning and there are no plans to remove this tool from teachers in Fife.
'Best information'
The SNP councillor added: "As the parent of a P1 child, I am more than happy for his teacher to have this tool to help identify the most appropriate level and methods of learning for him."
Aberdeenshire Council has no plans to follow neighbouring Aberdeen.
Laurence Findlay, Aberdeenshire Council's Director of Education and Children's Services, said: "We will continue to work with Government, Education Scotland and our own educational leaders, to ensure that class teachers have the best information available to them when coming to judgements about progress."
Meanwhile, Dumfries and Galloway Council moved to reassure those with concerns about how the results of the assessments might be used.
It said: "The test results are to support class teachers to plan next steps in an individual child's learning. The local authority uses the results to work with schools to plan interventions to support the raising attainment agenda.
"The results are at no point published - only curriculum for excellence levels, which the standardised assessments help inform as one source of evidence."