Keeper of Registers inspects 'unique' 1402 Orkney document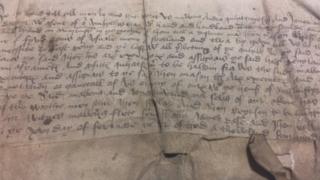 The Keeper of the Registers of Scotland has visited Orkney Library and Archive to inspect a "unique" document dated from 1402.
It records the sale of some land at Holm in Orkney, for "fyve cronis of the usual mone of Skotland" and two cattle.
Jennifer Henderson says she runs the oldest national land registry in the world, established in 1617, "but this document was old then".
The disposition is part of the Graemeshall collection.
It records the fact that "Jhon Masoun, burgess of Kirkwau" (Kirkwall) bought "a half penny land lyand in Wasbuster in the parochan of Hom", with all the rights, freedoms, assignments and profits associated with it "for euer". It adds that the property would pass to "his aris, executoris, and assignais" (heirs, executors and assignees).
Jennifer Henderson told BBC Radio Orkney: "I handle the modern-day equivalents of this, so when someone is selling land they'll produce a modern day version of this document... usually for more than five crowns and two cows, so it was fascinating to come and see a really early version of what these documents used to look like."
She added that it was "really unique" to have something that pre-dates the creation of the land register system in Scotland.
"We have the oldest national land register in the world. And this is even older than that, which is just fantastic," she said.
The Graemeshall collection is now held in Kirkwall, but still belongs to Sheena Wenham who was at the Orkney Library and Archive to see it displayed.
She said the family who bought the land were known to have gone on living in the area right into the early 1800s, "so there's great continuity".
She added that it was "an extraordinary thing" that this document - part of a total of 50 boxes of material now looked after in Kirkwall - has survived for so long.
"I still have the chest in my house, the old charter chest, in which all these papers originally were," she said.
"And there's a letter in the archives about mice getting into the back, and can they please repair it. So, it might have been chewed up. But it wasn't."