Controversial A96 upgrade route option dropped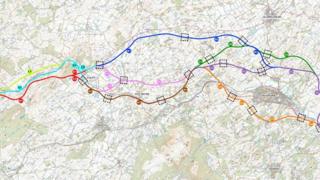 Controversial proposals that could have seen an upgraded A96 pass through the Bennachie Special Landscape Area have been taken off the table, Transport Scotland has said.
Campaigners have been arguing against the route affecting the beauty spot.
Members of the public are now getting their chance to see the options being considered for the A96 improvements between Huntly and Aberdeen.
A preferred route is expected to be identified next year.
The plans still include an option to build on the edge of the Bennachie Special Landscape Area.
'Challenging section'
Transport Secretary Michael Matheson said: "The Scottish government has given a clear commitment to dual the A96 which will see delivery of around 88 miles of upgraded road between Inverness and Aberdeen, a huge task but one we are committed to delivering.
"As part of that work, we are taking forward the design work for the 26-mile stretch of the route between east of Huntly and Aberdeen and now we are able to let people see the initial options we have developed for this challenging section of the A96.
"A number of options have been deselected at this stage as a result of existing topography, engineering complexity and environmental impact. This includes those near Bennachie and those through Inverurie on the existing A96."
He added: "I would encourage anyone with an interest in this scheme to visit one of the exhibitions and give us their views. The vital feedback we receive will help inform the design and assessment work."
The plans are on show in Inverurie Town Hall on Monday and Tuesday, Stewarts Hall in Huntly Wednesday, and Kinellar Community Hall on Thursday. All the exhibitions run from noon until 19:00.