University launches support system to tackle gender-based violence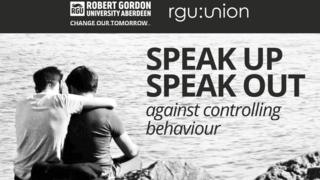 A new system to encourage students to report gender-based violence on campus has been launched in Aberdeen.
'Report and Support' is part of Robert Gordon University's campaign promoting zero tolerance of abuse, sexual harassment and stalking.
Staff, students and visitors can seek help from the web-based service.
The university has been working with campaigner Fiona Drouet, whose student daughter took her own life after she was abused by her boyfriend.
University of Aberdeen law student Emily took her own life in March 2016.
Angus Milligan, 21, admitted assault and threatening behaviour.
He was ordered to carry out 180 hours of unpaid work in July last year and told he would be under supervision for one year.
'Pioneering work'
Filippo Antoniazzi, RGU's director of student life, told BBC Scotland of the initiative: "It's an important step, there's an opportunity to report, and also receive support.
"We will be able to measure the types of gender-based violence.
"All universities are making efforts around Scotland."
Fiona Drouet - who helped launch a support card initiative for thousands of staff in Scotland's universities and colleges last month - said: "It's pioneering work by RGU.
"This is a comprehensive, user-friendly way of gathering data about gender violence on campus. I cannot praise them highly enough."
Universities Scotland said in a statement: "It's really powerful to send a message of zero tolerance in the way that Robert Gordon University has done in its Speak Up, Speak Out campaign and Report and Support initiative.
"Scotland's universities are committed to tackling gender-based violence, providing a safe and respectful environment in which to study and work and to making sure staff and students know that they will be believed and supported if they report an incident.
"Robert Gordon University's initiatives is very welcome and adds momentum to the work of other universities, and action taken Scotland-wide, to eliminate gender-based violence from our universities."
The Scottish government has said that tackling such violence is a "key priority".
If you are feeling emotionally distressed and would like details of organisations which offer advice and support, go online to bbc.co.uk/actionline or you can call for free, at any time to hear recorded information 0800 066 066.