Unrecognised Vanguard relics found in Stromness Museum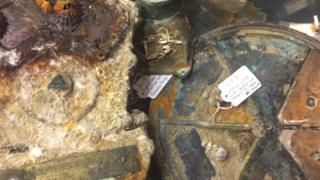 Items in Stromness Museum have been digitally scanned, ahead of the 100th anniversary of the scuttling of the German fleet in Scapa Flow.
It has revealed that some artefacts thought to have come from the German navy may in fact be from HMS Vanguard.
The Royal Navy warship was sunk by a catastrophic explosion in 1917. The German fleet was scuttled on the orders of its admiral two years later.
Now experts hope putting the objects online may help to identify them.
Among the items are an electrical meter, stamped as coming from the Armourers Workshop; a device - known as a dumaresq - used to calculate angles when firing at a moving target from a ship underway; and the lid of a large drum that would have contained the explosive cordite.
As HMS Vanguard was destroyed by a blast caused by cordite charges, that is deemed a particularly important relic.
Divers say similar objects can still be seen scattered on the seabed near the wreck of the vessel.
The fourth object identified by museum staff researching items in the stores is a large valve, which is stamped with a reference to pump discharge, and storage tanks.
Orkney dive boat owner Emily Turton, who is involved in organising the Scapa 100 commemorations, said it was a reminder of the importance of Scapa Flow to the Royal Navy, as well as the German fleet.
"It's highlighted that while Scapa 100 was thought of as primarily just to be about the German fleet, it makes you realise that actually Scapa has such a British and German maritime history," he said.
And, she added, if the new discoveries are verified as being from Vanguard, it will mean Stromness museum has "probably the best collection of Vanguard artefacts in the world".
Curator Jeanette Park told BBC Radio Orkney : "The whole process of going through the stores has been so interesting, and made possible by having staff at the museum that can undertake the work, through the Collections Development Team that are based here for a three year project.
"We are finding out so much about what is here at Stromness Museum."
Dr Alice Watterson, from the University of Dundee, said scanning the objects would mean images can be made available online. That means they will be available to experts worldwide, who might assist with definitive identification.
She said: "We really hope that's the case, and even just bringing the objects out and properly looking at them while we're documenting them has revealed a couple of interesting leads."
It is now forbidden to remove anything from the wrecks in Scapa Flow without special permission.
The wreckage of HMS Vanguard is protected as a war grave.
But the items in Stromness Museum were taken at a time when licensed salvage from the vessels was legal.
A total of 843 men and boys were killed when the Vanguard sank.