'All protection steps taken' after BSE diagnosis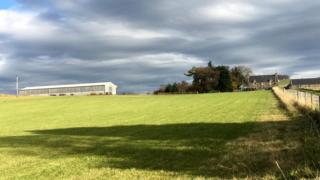 All required steps have been taken to protect consumers, food safety, and the farming and food sectors after BSE was found in Aberdeenshire, Rural Affairs Minister Mairi Gougeon has said.
Movement restrictions at Boghead Farm in Lumsden were introduced last week after so-called mad cow disease was found in one dead animal.
MSP Alexander Burnett asked what assurances could be provided.
Ms Gougeon told the Scottish Parliament a detailed investigation was under way.
The minister also said she planned to visit Thainstone Mart in Aberdeenshire on Friday to discuss any concerns.
'Extremely disappointing'
It was the first case of its kind in Scotland in a decade.
Ms Gougeon said: "Clearly it is extremely disappointing to have a confirmed case of BSE in Scotland.
"However I can provide full assurances that all required steps have been taken to protect consumers, to protect food safety and the farming and food sectors.
"We are taking this very seriously."
She said it showed measures in place were working, and that the results of the detailed tests were not expected for at least a month.
Mr Burnett extended sympathy to the farmer involved - Thomas Jackson - and his family.
Mr Jackson had spoken last week of his "devastation" about the discovery in his beef herd.
What happened in the UK's BSE epidemic?
1986 The year of the first recorded UK case of BSE

1996 The year of the first recorded human deaths

178 The numbers who died from the human form of mad cow disease
Getty
The case, involving a five-year-old animal, was identified before entering the human food chain.
The monitoring of BSE has been an important function since the crisis of 1986 when 180,000 cattle were infected and 4.4 million slaughtered in order to eradicate the disease in the UK.
There are understood to have been 16 cases in the UK since 2011, with the last in 2015 when farming officials confirmed a case of BSE in Carmarthenshire, Wales.
Mad cow disease - as it is more commonly known, because of the animals' erratic behaviour and movements - destroys their brains by eating away the nerve tissue.