Universal credit: 'Scary time' for food banks in north east Scotland
By Callum Tulley
BBC Scotland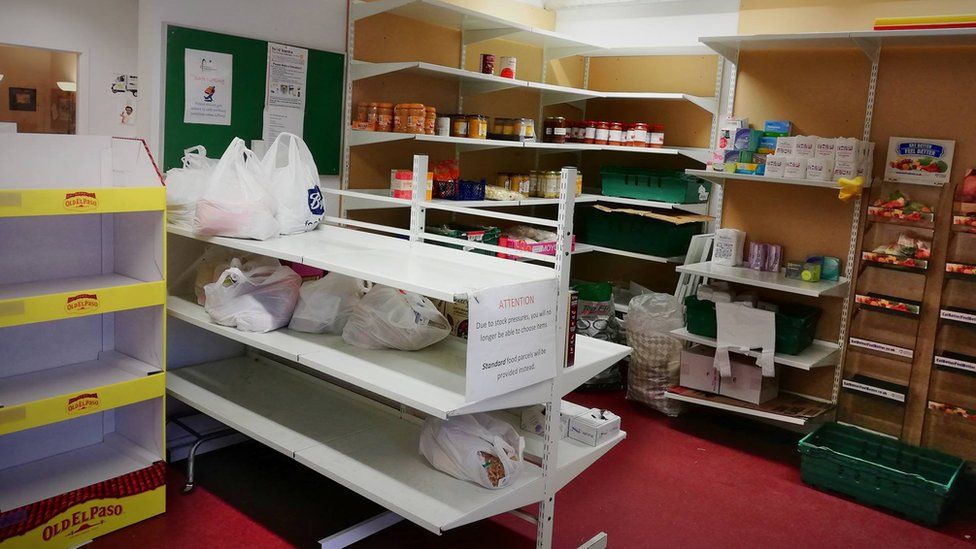 A major supplier to food banks in the north east of Scotland has warned it is considering cutting distributions to cope with the full rollout of universal credit in Aberdeen.
Some people already claiming the benefit are said to have faced a five-week wait for their first payment.
The full implementation will start in Aberdeen on Wednesday.
The Department for Work and Pensions (DWP) said improvements had been made in the system.
Community Food Initiatives North East (CFINE) said it was concerned about the potential impact.
Some claimants are said to have turned to food banks and are accruing debts as they wait for credit.
The new payment replaces six benefits and merges them into a single payment.
CFINE - which is based in Aberdeen - is one of the city's largest food banks, but it also provides supplies to 180 other organisations across the north east of Scotland.
Dave Simmers, chief executive of CFINE, said: "We're anxious in particular for people who are being put onto this benefit.
"But also for organisations like ours that support people going onto universal credit, we are very anxious about our ability to provide the food and other support that we anticipate people will need.
"The experience throughout the country is universal credit leads to, for example, an increase in food bank usage.
"So we anticipate regrettably a significant increase, and our concern is how on earth do we manage to support people."
Mr Simmers is concerned that as people move onto universal credit, the expected increase in demand will exceed supply.
He said: "We'll be faced with issues about do we supply them [other food banks], or do we keep it for our food bank?
"Really, really difficult decisions. Not things I want to do but we might be faced with that. It's a scary time ahead for us all."
Mr Simmers said the CFINE food bank had nearly run out of food at least three times this year, adding that the significant increase in demand could partly be attributed to universal credit.
The Trussell Trust, which has 52 food banks across Scotland, has conducted research into levels of demand.
It found that when universal credit went live in an area, there was a "demonstrable" increase in demand in local food banks.
On average, 12 months after rollout, the Trussell Trust said food banks saw a 52% increase in demand, compared with 13% in areas with universal credit for three months or less.
Laura Ferguson, the Trussell Trust's operation manager for Scotland, told a social security meeting at the Scottish Parliament last Thursday that two thirds of its food banks were now in areas of full rollout of universal credit.
Evan Adamson, the community co-ordinator for Instant Neighbour, an Aberdeen-based food bank charity which relies partly on distributions from CFINE, said: "Obviously we're all struggling under the increased usage."
Mr Adamson, who was once homeless, used to claim universal credit.
When asked if he used food banks while claiming the benefit, he said: "Yes. I was using food banks weekly for about four or five months.
"You'll find people that will come in for a period of five or six weeks and it's because they are waiting for their universal credit payment."
In a statement to BBC Scotland, the DWP said: "Universal credit replaces an out-of-date, complex benefits system with cliff edges that often trapped people in unemployment.
"We brought in improvements which include increasing advances to 100%, so no one needs to be without money during the first five weeks of a claim, removing the seven-day waiting period and paying people's Housing Benefit for two weeks while they wait for the first UC payment.
"UC includes more personalised help from a work coach and people are moving into work faster and staying in work longer than under the old system."
The statement added: "The new system is also more flexible, which means people can take on short-term work to develop their skills and build up their experience.
"Our staff are trained to support people throughout the claim process and we'd encourage anyone who needs extra help or information to talk to their work coach."
The DWP said the reasons why people used food banks were complex, so it was wrong to link a rise to any one cause.
Ross Thomson, Scottish Conservative MP for Aberdeen South, said: "The whole point of universal credit is to get more people into work and to ensure that work pays.
"The government is aware that there have been some difficulties with the rollout, and that's why the DWP secretary recently announced an extra £39m to help."
Related Internet Links
The BBC is not responsible for the content of external sites.