New plans to fire up Shetland tourism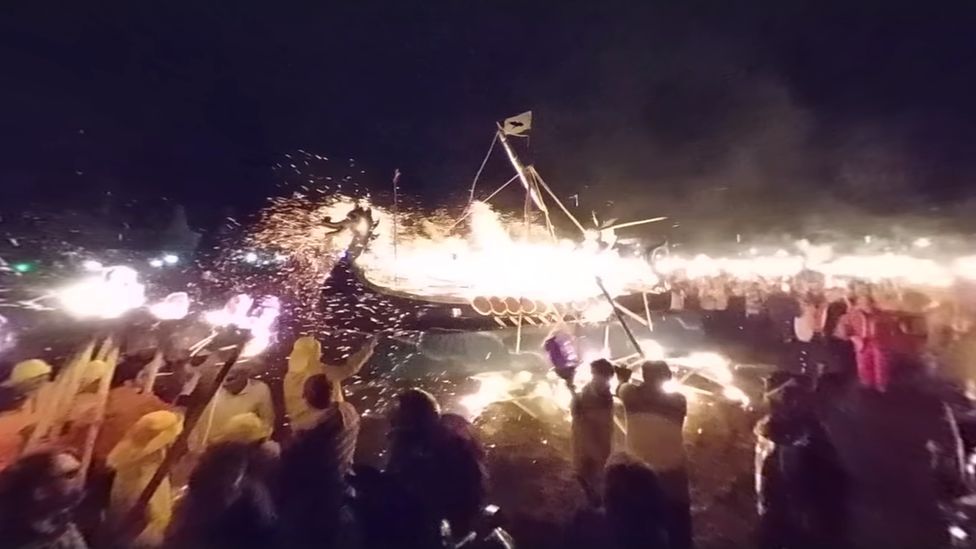 Viking history, wildlife, the Northern Lights and Shetland's unique geology form part of plans to increase tourism to the islands.
Shetland Tourism Association (STA) figures show recent growth of 13%, from 65,000 in 2013 to 73,000 in 2017.
But the STA wants to further secure "sustainable development" of tourism in Shetland.
It is hoped this could encourage an increase in visitor spend from £10m to £33.5m by 2023.
Spend per person rose from £251, in 2013, to £317, in 2017 - and last year cruise ships brought more than 90,000 people to Shetland.
Emma Millar, chairwoman of the STA, highlighted the "unique and outstanding visitor experiences" that Shetland offers.
Ms Millar picked out "authentic experiences" as motivating factors for tourists. These included geology, wildlife, and in particular the Unesco Global Geopark - one of only two in Scotland.
In addition to the strategic vision for the next five years, Ms Millar said the STA would be appointing a specific tourism development worker to promote and co-ordinate tourism across the Shetland Islands.
However, she advised that hoteliers and B&B owners must have a connected view of events happening across Shetland, to attract more tourists and better inform those they are hosting.
Niche industries have provided considerable tourist attention, from Shetland's Viking history and the possibility of seeing the Northern Lights to the BBC's crime Drama 'Shetland'.
Despite the growth in tourist numbers and spend, the STA acknowledged that there were still challenges for the tourism industry to face.
Among these are the seasonal nature of tourism. The STA highlighted that "more can be done" with tourism at other points in the year when accommodation for tourists becomes available.
They underlined the role events such as Up Helly Aa and Shetland Wool Week have played in encouraging tourists to come outside of summer months.
Additionally, Lerwick and the Mainland are the areas most visited by tourists, owing to ease of access. Areas such as Papa Stour, Foula, and Out Skerries received minimal amounts of visitors.
Those in the hospitality sector have noted the increase in popularity of Shetland as a destination in summer months.
Grant O'Neill, manager of the Busta House Hotel in Busta, said they were seeing healthy visitor numbers.
He said: "In the summer season we continue to be as busy as ever. But we need to encourage more tourism in the off-season by promoting our nature despite the weather and the plethora of events, including all of the Up Helly Aas".
Caroline McKenzie, owner of the Scalloway Hotel, said that it would be helpful if more tourist attractions were open later in the season.
She added: "Services and facilities need to be available to visitors if they come at less busy times of the year."