Seabird harm study for Trump row wind farm in Aberdeenshire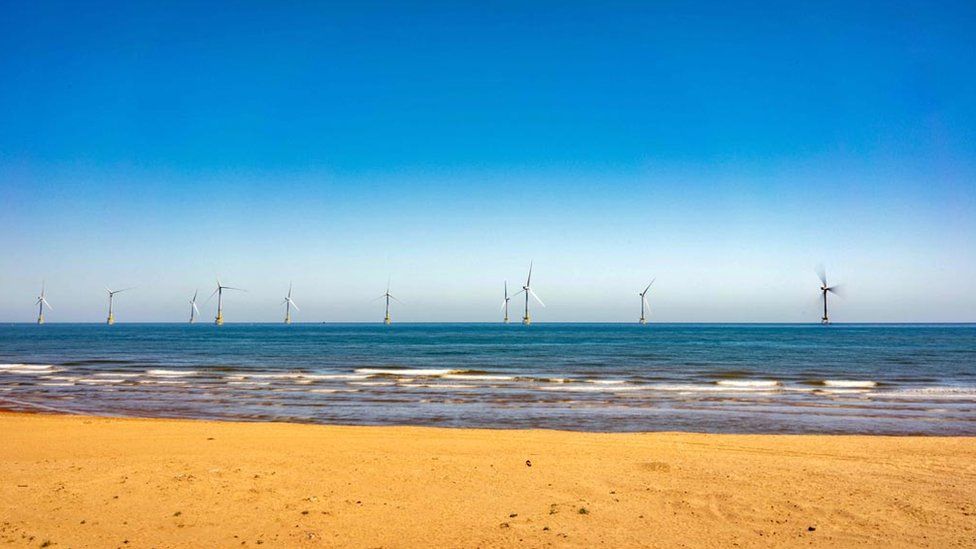 A study into whether seabirds can avoid hitting wind turbines is to be carried out off the Aberdeenshire coast.
The 11-turbine farm was the focus of a lengthy planning battle involving Donald Trump who argued it would spoil the view from his golf resort at Menie.
Previous wildlife impact studies have focused on proposed wind farms rather than ones already up and running.
Operated by Swedish company Vattenfall, it features the world's most powerful wind turbines.
The research is part of a €3m (£2.7m) investment in scientific research at the site.
By Kevin Keane, BBC Scotland environment correspondent
Donald Trump once declared "I am the evidence" during a Scottish Parliament inquiry into wind farms and renewable energy.
The now-US president was battling to stop an array being built close to his Aberdeenshire golf course.
However he ultimately lost that argument.
Not only has the wind farm been built, it will now be used to gather proper scientific evidence on the environmental impact of turbines.
The research will focus on breeding birds including the northern gannet, black-legged kittiwake and large gulls.
Danielle Lane, Vattenfall's UK Country Manager, said: "Yet again the EOWDC demonstrates its cutting-edge credentials with this significant investment in seabird research.
"The industry, decision makers and ornithology specialists rightly take great care when assessing the impact of offshore wind turbines on bird populations. The more data we have, the more confident that decision making can be.
"That's why we expect this research, combined with others, to boost understanding and improve collision prediction models."
The company believes this will be the first such research project carried out at an operational wind farm.
Marine Scotland, Scottish Natural Heritage and RSPB Scotland are among the organisations supporting the project.
Last year RSPB Scotland was refused permission to appeal against four wind farms in the firths of Forth and Tay which, they argued, threatened sea birds.
Charles Nathan, senior conservation planner at the charity, said: "In putting offshore wind out at sea, it obviously has potential impacts on a whole range of wildlife and we're mostly concerned with the impacts on seabirds.
"So any research like this that Vattenfall is putting forward is key to really understanding what those impacts are and how we can go about avoiding them in the future.
"It will increase our understanding, it will reduce uncertainty and so therefore the decision makers, when they are determining an application for offshore wind, will have more certainty as to what the risks are."
Related Internet Links
The BBC is not responsible for the content of external sites.