German warship scrap sites in Orkney's Scapa Flow examined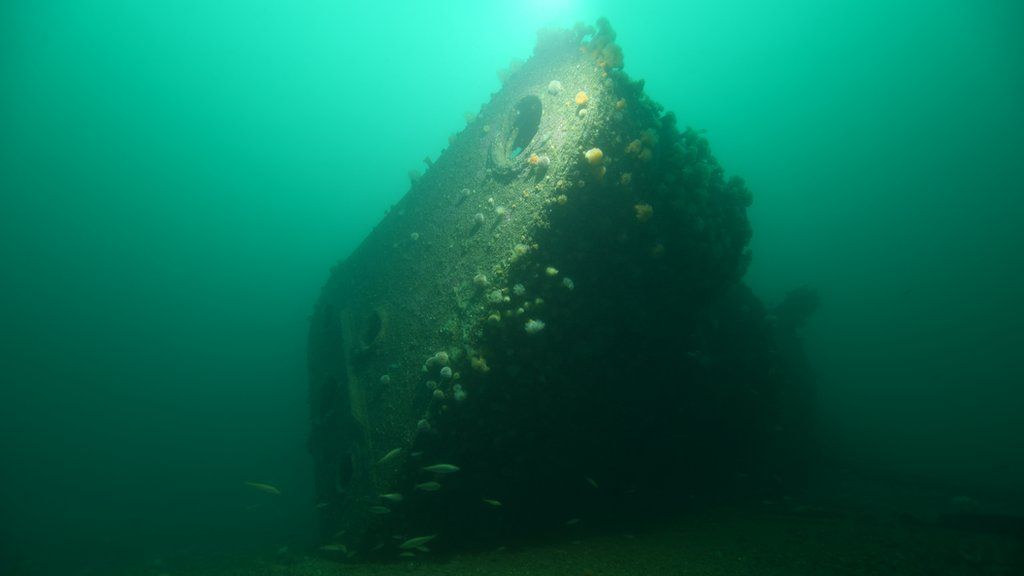 Debris left on the seabed following the salvaging of German warships scuttled in Orkney have been surveyed by archaeologists.
Germany's High Seas Fleet was interned at the Royal Navy's base at Scapa Flow at the end of World War One.
The fleet's commander, Admiral Ludwig Von Reuter, believed that his ships were to be seized as spoils of war and divided up between the victorious Allies. He felt duty-bound not to let that happen.
This action resulted in the sinking of 50 of the 74 interned vessels.
In the years before World War Two, 42 of these vessels were salvaged and various components of the ships' structures lie on the seabed marking these wreck sites.
Orkney Research Centre for Archaeology (Orca) has been working with Sula Diving on surveys of Scapa Flow.
The first phase of this project was completed last year, and its second phase began in June this year.
The latest phase of the survey has concentrated on the debris left behind when the wrecks in deep water around the island of Cava were salvaged. The vessels salvaged included the battleship Kaiser and the battle cruiser Moltke.
The project is led by Pete Higgins, senior project manager at Orca, and Sula Diving's Kevin Heath on behalf of Historic Environment Scotland (HES).
Voluntary assistance has also been given by experienced divers from the Scapa Flow diving community, Edinburgh's Heriot Watt University, the British and Orkney Sub Aqua Clubs and divers visiting Orkney from all over the world.
Major components of ship structures and equipment such as masts, searchlights, plating, small boats known as steam pinnaces, funnels and spotting tops were identified at the scrap sites.
As this wreckage is relatively broken up and lacks statutory protection, the sites are currently vulnerable to modern salvage activity, said Orca.
Mr Higgins said: "This is an important marine archaeology project surveying what remains of the German High Seas Fleet warships that were salvaged from Scapa Flow in the inter war period.
"It is very exciting to see divers from all over the world participating in marine archaeology. Their work is helping us retrieve valuable information on warships that we thought had been effectively destroyed seventy years ago."
Philip Robertson, HES' marine expert, said: "Nearly 100 years since the High Seas Fleet was interned in Scapa Flow at the end of the First World War, HES funded this project to help us understand and protect, where possible, the important information that has been left behind from these times and which helps us appreciate Scapa Flow's key role as a naval wartime harbour and the incredible story of the scuttling and salvage of the High Seas Fleet."
Images are the copyright of Sula Diving and the Bobby Forbes Collection.
Related Internet Links
The BBC is not responsible for the content of external sites.