Aberdeen base for second Scotland's Charity Air Ambulance helicopter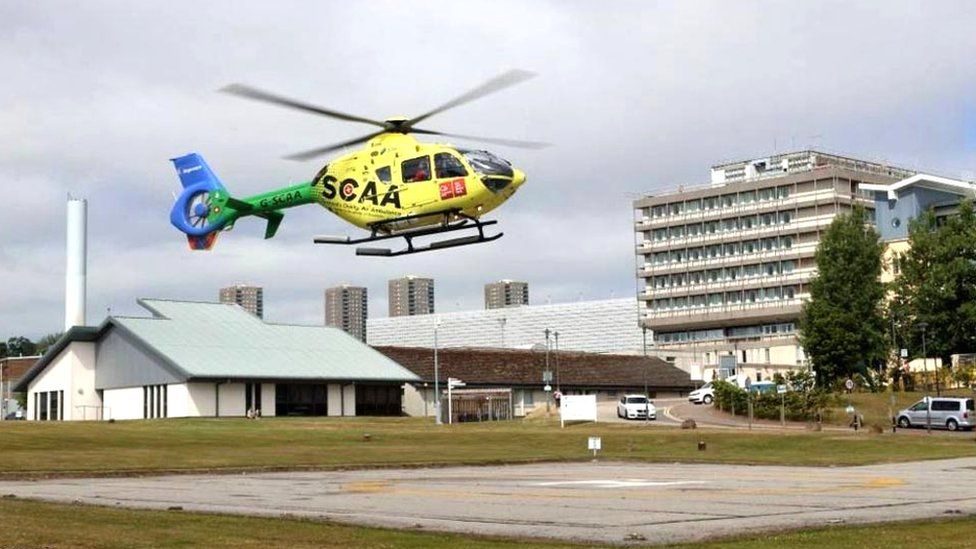 Aberdeen has been unveiled as the base for a new charity air ambulance helicopter.
Scotland's Charity Air Ambulance (SCAA) has been raising £6m for the aircraft.
The charity has operated an air ambulance since 2013, which operate alongside two funded by the Scottish government in Glasgow and Inverness.
The SCAA hopes to launch the new Aberdeen-based service by late 2019 when Helimed 79 will join a stablemate already operating out of Perth Airport.
It is hoped the service could help save scores of lives.
"SCAA is frequently tasked to emergencies in the north east and having an air ambulance based there will optimise the coverage and resilience of the country's entire emergency air response - helping to fulfil one of the Scottish Trauma Network's key objectives of transporting patients to a key trauma centre such as Aberdeen within 45 minutes of serious illness or injury.
"With a second helicopter air ambulance service, SCAA will further positively impact on the outcome for patients - ultimately saving and improving hundreds more lives every year."
Health Secretary Jeane Freeman said: "Scotland's Charity Air Ambulance carries out great work across Scotland, helping to save and improve lives every day.
"A second SCAA helicopter will make a huge difference.
"It is crucial that we ensure the most severely injured patients have the best chance of a speedy recovery from their injuries."
Tom Steele, chairman of the Scottish Ambulance Service, added: "This is wonderful news, not only for Grampian and the north east, but for the whole of Scotland.
"SCAA has been a very important partner since 2013 when they provided their first helicopter air ambulance, based in Perth.
"Since then it has flown almost 2,000 emergency missions and undoubtedly has saved many lives across Scotland's rural and remote areas."
Related Internet Links
The BBC is not responsible for the content of external sites.