Tensions between EU boats and local fishing crews in Shetland
By Daniel Bennett
BBC Scotland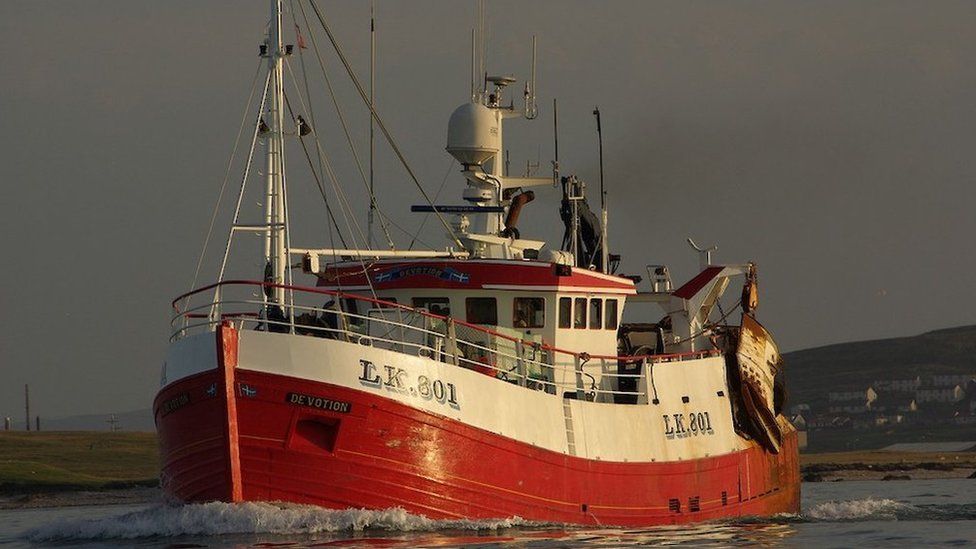 Fishermen in Shetland say they have been "blocked" from some local fishing areas by European crews.
It has been claimed that more French and Spanish boats have been operating in the area - permitted under EU fishing laws.
But local fishermen have criticised their "intimidating" and "unfair" behaviour.
EU crews fishing in the area have said they aim to maintain good working relationships with local fleets.
Gary Smith, skipper of The Devotion, claimed European vessels were grouping together to intimidate local crews.
He said the European vessels were "blocking" what he called "traditional grounds" for fishing.
Most of the foreign boats are fishing in an area to the east of Shetland - which is a prime hake fishery.
Mr Smith said: "If you go near to [European boats], there'll be two or three come up to you, warning of lines ahead."
He continued: "If you don't haul up your gear and move on [they say] they'll disable you by putting a rope in your propeller."
Mr Smith also claimed that rubbish was being tossed overboard by EU fishing boats - detailing bags of discarded beer cans as an example.
The fisherman said that fishing boats were not being monitored appropriately by fisheries officials.
Marine Scotland said they were "aware" of fishing in the area and were closely monitoring "the activities of the vessels involved, in particular the non-UK vessels".
Fernando Bermudez, the Spanish captain of French-registered Heliotrope, currently operating in Shetland, said he enjoys a cordial relationship with Shetland's fishing crews.
Speaking in Spanish at Lerwick Harbour, he said: "Sometimes we have communication problems because of the language barrier.
"We try to interrupt each other as little as possible so that we can have a good relationship."
Another Spanish captain, Richard Castro, of the UK-registered Sir Miles, refuted any suggestion that crews had been discarding litter in the sea, insisting that they dispose of rubbish "responsibly" on a daily basis.
He said: "We have bins onboard the ship and once we reach the shore, we talk to the port authorities and they remove it on pallets."