Brexit: Scottish fishing industry calls for clarity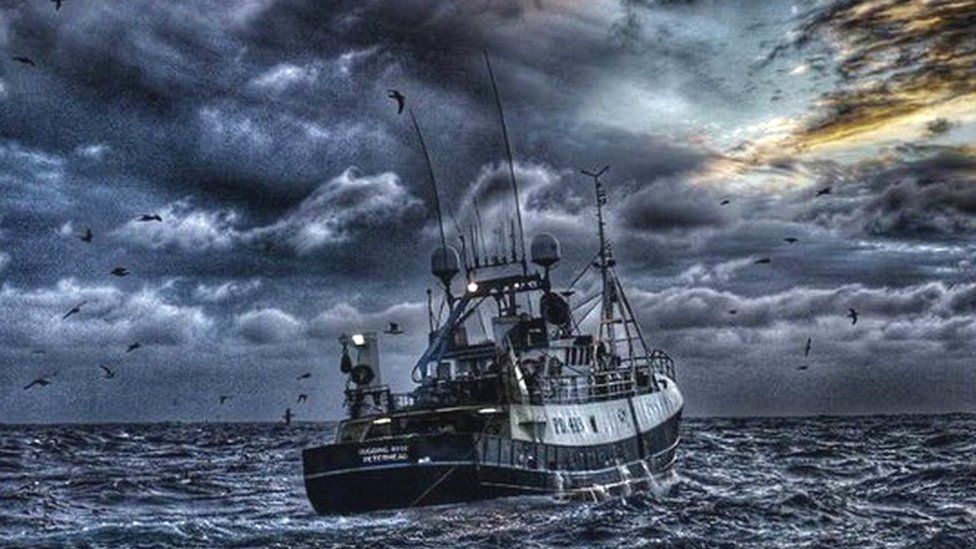 Members of the Scottish fishing industry have called for "clarity" on the implications of the draft agreement on leaving the EU.
The 585-page document said a new agreement would be reached on access to waters and quota shares.
Fishing leaders, skippers and traders are seeking more specifics on the plan.
Prime Minister Theresa May insisted on Thursday the UK government would not accept any deal with the EU that linked access to fishing waters with trade.
The Aberdeenshire town of Peterhead is Europe's largest white fish port, where a new state-of-the art market opened earlier this year.
It handles tens of millions of pounds worth of fish, including cod and haddock, annually.
Speaking to BBC Scotland at Peterhead fish market, where more than 5,000 boxes of fish were landed on Thursday morning, trader Gary Mitchell said the industry feared for the future.
He said: "The fishermen are devastated. We don't know what's going to happen. We are being sold down the river once again.
Skipper Robert West said: "It is frustrating, but we have to deal with that all the time.
"We've had so much rubbish to put up with over the years, it's just normal."
The Scottish Fishermen's Federation (SFF) was formed in 1973, with the aim of protecting collective interests.
As details of the Brexit deal emerged on Tuesday evening, it voiced concerns about a link between access for EU vessels to UK waters and tariff-free access for UK seafood suppliers to the EU market.
Chief executive Bertie Armstrong said: "The industry's priority has always been taking back control of decision-making over who catches what, where and when in our waters, so that we can end once and for all the grossly unfair situation where 60% of our stocks are taken, gratis, by boats from other EU nations.
"That would mean the UK becoming a fully independent coastal state with its own seat at all the relevant international fisheries negotiations from December 2020, and regaining its proud status as one of the world's major fishing nations. Negotiations over trade terms for seafood products would follow on from this.
"Any linkage between access and trade contravenes all international norms and practice and is simply unacceptable in principle."
Speaking on the BBC's Good Morning Scotland programme on Wednesday, Mr Armstrong said: "Yesterday we asked for clarification - we weren't preaching revolt, we were preaching clarification."
He said becoming an independent coastal state would allow the UK to decide who can access to its waters, and which can be fished.
"Once we become a coastal state we can stop giving away 60% of the seafood that exits our waters and start using that for the national good," he said.
Mr Armstrong added that a Scottish government's report had indicated that this would be worth more than £500m and 5,000 jobs.
"There is much to fight for. We need to get the best deal for Scottish fishing," he said.
Meanwhile, Alistair Sinclair, national co-ordinator of the Scottish Creel Fishermen's Federation (SCFF), said his industry relied on the smooth transportation of live shellfish into Europe.
He said there would still be "huge uncertainty" until they received clarification that this would continue.
Mr Mundell said after the Cabinet meeting on Tuesday that he was "content" with the Brexit deal.
He said he believed it meant the UK was leaving the CFP at the end of 2020, becoming an independent coastal state.
Mrs May told Banff and Buchan MP David Duguid on Thursday that attempts to link access to fishing waters to the trade aspect of negotiations would not be accepted.