Aberdeen choir set for Beatles tribute in New York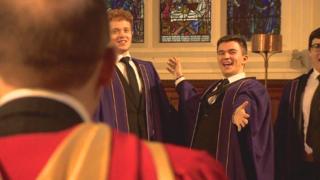 The University of Aberdeen's Chapel Choir is to perform special Beatles tribute at a prestigious fundraising gala in New York.
The students - led by composer Paul Mealor - will perform alongside singer Sheryl Crow at the Unicef Snowflake Ball on Tuesday.
The audience will include Beatles drummer Sir Ringo Starr.
Prof Mealor said it is a "once in a lifetime opportunity" for the "incredibly talented" choir.
Prof Mealor is one of the UK's best-known composers.
The Duchess of Cambridge requested the Welsh-born composer's music for her 2011 wedding to Prince William.
He was also behind the Military Wives' hit Christmas song Wherever You Are.
'Wonderful songs'
He said: "The University of Aberdeen has a tradition in choral music stretching back to its foundation more than 500 years ago.
"It will give me immense pride to be able to showcase how we have built upon that legacy to produce a versatile vocal group as comfortable performing popular music as it is liturgical music.
"To be part of an event as spectacular as the Snowflake Ball - and to perform alongside an artist of the calibre of Sheryl Crow - is truly amazing.
"I don't think they quite realise yet how big it is.
"Better still, we will be helping to contribute to raising funds to support Unicef."
He added: "We hope that guests at the Snowflake Ball - and especially Sir Ringo Starr - will enjoy our special Beatles arrangement and the new twist the voices of the University of Aberdeen's Chapel Choir can bring to these wonderful songs."
The choir will be the backing singers for Sheryl Crow on Here Comes The Sun, as well as performing other pieces by The Beatles.
Choir member Ross Cumming said: "It is an honour to be representing the University of Aberdeen at such a prestigious event.
"The Chapel Choir has had some memorable performances as part of the life of the University of Aberdeen but this trip I already know will be a highlight."