Cull of rabbits at Inverurie graveyard postponed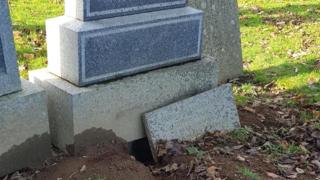 A cull of rabbits at an Inverurie cemetery has been postponed after public reaction to the plans.
Aberdeenshire Council had previously announced that the rabbits were to be gassed due to the damage they were causing.
This came after concerns over the effect to floral tributes and gravestones caused by rabbits.
Officers will now look at alternative methods of dealing with the safety risk problem.
The council said that a significant numbers of rabbits had moved in and were:
burrowing through the graveyard
undermining headstones
eating flowers and plants left by mourners.
'Growing problem'
The rabbit population within the cemetery has grown significantly in recent years.
The colony was originally situated around the neighbouring monument but because of flood damage to a boundary wall they managed to get into the cemetery and expand in numbers.
After complaints about the damage they were causing, council officers explored several options before deciding to use gas.
Replacing the wall and repairing the rabbit-proof fencing had failed to work and other alternative pest control methods are being called for after a strong reaction from members of the public to the gassing plan.
Head of landscape services Phillip McKay said: "Whilst we fully understand that dealing with a rabbit infestation is contentious, this work will still have to take place, so this is a postponement to examine any realistic alternatives.
"We have to ensure that the cemetery operates effectively, efficiently and respectfully.
"That includes ensuring that memorials, such as headstones, are structurally sound and do not present a danger to those visiting the cemetery to pay their respects.
"Unfortunately, the cemetery has already been badly impacted by burrowing and this is something that has to be addressed quickly to prevent further significant damage."
Scheduled monuments
The council is the owner of the cemetery it has a duty of care to visitors. It also has a responsibility to look after the scheduled monuments on the site and to maintain these structures.
The older part of the cemetery is Category B listed and its structures within it are protected by law.
Deterioration in the condition of the cemetery has already been highlighted by Historic Environment, as a direct result of the rabbit population.
It said that reducing the population is the minimum action necessary to prevent the problem continuing.