Scotland boss McLeish in missing Aberdeen teenager appeal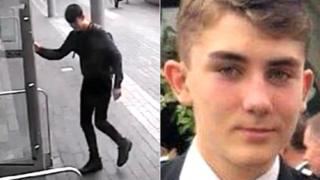 Scotland football manager Alex McLeish has issued a personal appeal as the search for a missing Aberdeen teenager goes on.
The former Aberdeen FC player appears in a Police Scotland video a week after Liam Smith, 16, was last seen.
In it, he says: "Liam, if you are watching this message - please come home."
Police are speaking to bus passengers and members of the public at three "key sites" in their search for Liam.
He caught the 202 Stagecoach bus from Aberdeen last Saturday.
It is understood he bought a ticket to Banchory, and may have got off in the town or one stop before in Crathes.
When last seen, Liam - who is 6ft 4in tall - was wearing a dark top and blue jeans. He had a camouflage backpack.
He did not have a mobile phone with him.
Seven days after Liam went missing, officers said they would be focusing their search for clues on three areas - Union Square in Aberdeen, Crathes and Banchory.
They will be speaking to members of the public at Union Square and at the bus station in the hope of jogging people's memories.
A Police Scotland spokesman said: "Officers will also be on board a number of 202 buses and will be speaking to the drivers and passengers.
"Specialist searches are continuing in the Banchory and Crathes areas.
"Officers will carry out high-visibility patrols and there will also be an incident unit in Banchory for any members of the public who want to pass on any information."
On Friday, Liam's mother Alix Smith said the family were becoming "more and more desperate" to find him.
She added: "We are literally clinging to the hope that he is out there somewhere taking shelter.
"Not knowing where Liam is is just so painful for us and we just want to find him safe."
Ch Insp Martin Mackay said the force had received about 100 calls with potential information.
He said: "Over the past week we have enlisted the expertise of numerous resources ranging from the Police Scotland helicopter to specialist search advisers and the dog unit, all of which combined give us the best possible chance of finding Liam.
"However, there is no denying that this is a challenging inquiry, not helped by the fact Liam does not have access to a mobile phone and that no one knows for sure why he would choose to head in this direction.
"I must highlight the significant support we have received from the public, ranging from people calling in with information and potential sightings of Liam to simply sharing our numerous appeals online.
"I know that many people have offered to assist with searches, however we carry out these operations in a highly-specialised, methodical way with officers who are trained and experienced. When we open up our searches to the public, this will be publicised. "