Aberdeenshire riding school for the disabled at risk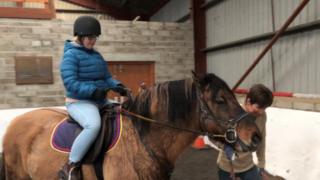 An Aberdeenshire horse riding school for the disabled may close if it cannot find a new home.
Gordon Riding for the Disabled is a purpose-built centre near Inverurie.
However the organisation will need to find a new location for its Tweed-Dale facility because the lease on the land on which it is built is nearing its end.
Efforts to find a new base for the school have been complicated by road building plans.
Through therapeutic riding, the facility aims to improve the cognitive, behavioural, physical and social skills of those who have physical and intellectual challenges.
The uncertainty around its future is causing concern to its users.
Amelia Maude, 19, who has Down's syndrome and has been using the facility for seven years, is worried about losing the facility.
She told BBC Scotland: "I'd be a bit sad [if it closed] because I like horse riding here.
"I like coming here with my friends and enjoying the horses and the exercises."
'A great loss'
Amelia's mother Christine believes the school has been vital for helping develop her daughter's skills.
She said: "She really enjoys it, it is very good for her.
"It's been great for her coordination and her balance. It has been excellent. The one thing she really does enjoy is the horses, and she always has done.
"It it good for to get out and to exercise, physically it is very good for her. I know for many of the parents it would be a great loss and we wouldn't like to lose it at all."
Many potential sites are on land under consideration for the dualling of the A96 north of Inverurie.
The preferred route will be chosen next year.
Derek Pullem, chairman of the trustees of Gordon Riding for the Disabled Association (GRDA), said the facility would be very difficult and expensive to replace.
He explained: "We're looking in the short to medium term at trying to lodge for existing facilities.
"But even those existing facilities have the uncertainty of the bypass and the planning and whether or not they will actually be able to offer that on a continuing basis."