Improvements ordered by HSE after Aberdeen school asbestos incident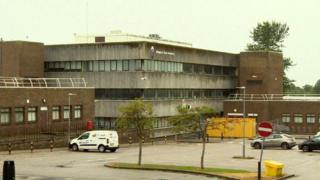 Aberdeen City Council has been told to improve procedures after there was no emergency response for five days to asbestos being disturbed at a school.
Teachers, janitors, cleaners and other workers were allowed onto the Bridge of Don Academy premises following the incident in July.
A Health and Safety Executive (HSE) inspector has now identified health and safety law contraventions.
The council said it took health and safety issues "very seriously".
It has been given until 20 December to act on all the findings.
BBC Scotland revealed in August that 25 people were allowed into the school after asbestos was disturbed due to a series of failures in dealing with the incident.
The HSE has now written to the local authority after its investigation.
The letter says an apprentice joiner removed an insulation board from above a doorway as part of the work to move the position of the door.
No action
Having removed the board by using a hammer and chisel, he realised that it may be asbestos-containing material and alerted his supervisor.
The broken board was double wrapped in plastic and placed beside the skip, and a further piece of board - still above the door and intact - was covered using a ceiling tile and cardboard.
An email was sent to the architect requesting a sample be taken as asbestos was suspected. No action was taken to deal with any potential contamination of the area or the individuals.
When the remaining board was sampled five days later the asbestos officer indicated he thought it was asbestos-containing material.
It was only at this point that the risk control team were informed and the fact that there was broken material came to light.
The HSE said no action was taken at this point to restrict access to the area, although the doorway was taken out of use.
The Unite union's Tommy Campbell said: "The report on the asbestos incident at Bridge of Don Academy is absolutely scathing.
"The procedures put in place to deal with potential asbestos material were woeful."
'Robust procedures'
A spokeswoman for the local authority said: "Aberdeen City Council takes its health and safety responsibility seriously and we are concerned that such a serious incident occurred.
"The council has cooperated fully with the Health and Safety Executive and acknowledges their findings as detailed in their report.
"As a result of its internal investigation the council has put in place further measures to ensure its health and safety procedures, and operating procedures are robust.
"As part of our ongoing commitment to health and safety we will communicate the findings to staff and contractors to maximise awareness of the issue to ensure that all necessary steps are taken in order that this type of incident does not happen again."