Liam Smith: Dozens of missing Aberdeen teenager sightings eliminated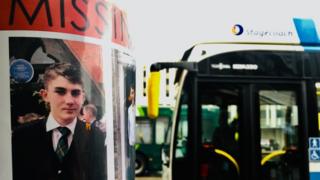 A total of 139 reported sightings of a missing Aberdeen 16-year-old have been eliminated, police have said.
Liam Smith caught the 202 Stagecoach bus from Aberdeen on 17 November and is thought to have got off at Crathes.
Police said a "subsequent credible sighting" of him in the Crathes Estate area that afternoon offered further information to lead searches.
Reported sightings including from Inverurie, Kemnay and Rothienorman have been eliminated.
Searches are continuing in the Crathes area.
Ch Insp Martin Mackay said: "Every available police resource has been dedicated to our search for Liam and it continues to cause us all great concern that he has not yet been found.
"Eleven days is a long time for a teenage boy who has little experience of the outdoors to be missing and as more time passes without seeing or hearing from him, we need to be realistic about the options we have moving forward.
"The terrain we are entering with regard to our searches is extremely challenging - not helped by the current weather - and even our own officers are finding it difficult to navigate certain areas.
"I know that many members of the public are still offering to assist with searches and please don't think your offers of help are being ignored. I must stress just how challenging the land is we are dealing with ranging from dense wooded areas to expanses of water, and we don't want anyone put in harm's way."
He added: "He bought Lucozade, Jaffa Cakes and Dairy Milk at Sainsbury's before he left Aberdeen."
When last seen, Liam - who is 6ft 4in tall - was wearing a dark top and blue jeans. He had a camouflage backpack.
He did not have a mobile phone with him.