'Major challenge' for A96 dual carriageway plans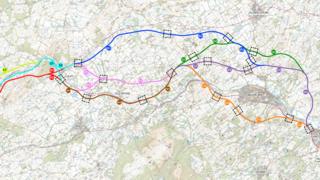 The A96 dual carriageway should be built on one of the routes being considered to the north east of Inverurie, it has been recommended.
Aberdeenshire Council officials backed the routes but said avoiding flood risk when crossing the River Don would be a "major challenge".
There are three potential routes being considered north of Inverurie, and one being considered to the south.
All four routes are said to pose challenges.
There has been opposition from farmers and local residents to routes skirting to the north of the town.
The plans include an option to build on the edge of the Bennachie Special Landscape Area.
Proposals that could have seen an upgraded A96 pass through the Bennachie Special Landscape Area were previously taken off the table.
Shorter length
The three routes to the north are seen to have the strategic benefit of passing between the towns of Inverurie and Oldmeldrum, and therefore are likely to be of use to a greater number of people.
Additionally, all three of the routes to the north would have to cross the River Don and a surrounding flood plain.
Designing a bridge to mitigate the risk of flooding could add greater cost to any new route to the north.
The route being considered south of Inverurie would be shorter in length compared with those to the north.
It would still have to cross the River Don, albeit in an area at a lower risk of flooding.
A preferred route is expected to be announced next year.