RAF Lossiemouth jets scrambled for 'unidentified aircraft'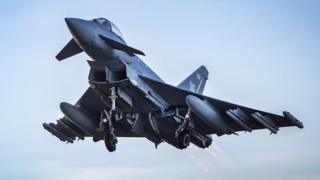 Fighter jets scrambled from a Scottish RAF station due to unidentified aircraft approaching UK airspace.
Typhoon jets from RAF Lossiemouth in Moray were called out on Monday morning.
The RAF said the fighters were scrambled as a "precautionary measure", but no intercept took place and the Typhoons returned to base.
They launched from RAF Lossiemouth with the Meteor air-to-air missile for the first time.
Chief of the Air Staff Air Chief Marshal Sir Stephen Hillier said: "RAF Quick Reaction Alert Typhoon fighters are now armed with the most advanced air-to-air missile in the world."