'No fingerprints' of accused at Brian McKandie murder scene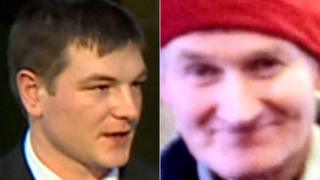 The closing speeches have been heard in the trial of a man accused of murdering a pensioner at his cottage after the conclusion of all the evidence.
Brian McKandie, 67, was found dead in his home near Rothienorman in Aberdeenshire on 12 March 2016.
Steven Sidebottom, 25, denies murder and robbery. He has lodged a special defence of alibi.
The defence case closed on the 15th day of the trial at the High Court in Aberdeen on Tuesday morning.
The last defence witness, fingerprint examiner Diane Carmichael, told defence counsel Ian Duguid QC that nothing found at the scene matched Mr Sidebottom's fingerprints.
Advocate depute Iain McSporran, prosecuting, asked if there was an effective way not to leave fingerprints.
The witness replied: "You could wear gloves."
'Extremely violent attack'
As he began his closing address, Mr McSporran told the jury they would have to put "revulsion and sympathy" aside.
He said Mr McKandie was murdered in an "extremely violent attack".
Mr McSporran said it was a circumstantial case.
He said: "The motive for this appalling crime was theft and robbery."
He said Mr Sidebottom needed money, had planned a criminal job, and became "laden with cash".
'Magic money tree'
Mr McSporran said: "There is no magic money tree."
Describing the absence of forensic evidence against Mr Sidebottom, Mr McSporran said: "The absence of evidence is not evidence of absence."
He said Mr Sidebottom had given false accounts of his movements on the day it is alleged Mr McKandie was murdered.
In his closing address, defence counsel Mr Duguid said Mr Sidebottom had not given evidence, but was under no obligation to do so, and was presumed innocent.
He asked the jury if there was any evidence money was stolen and if there had been a robbery at all.
Mr Duguid also said it would if have been "miraculous" for Mr Sidebottom to have avoided leaving behind forensic evidence if he was "the killer in the hallway".
Mr Sidebottom denies striking Mr McKandie with an unidentified implement or implements and robbing him of a container and a sum of money.
A special defence of incrimination has now been withdrawn.
Judge Lord Uist will deliver his charge to the jury on Wednesday morning, before they retire to consider a verdict.