Forklift used in Torphins cash machine ram-raid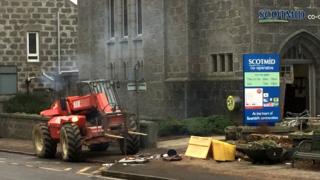 A major investigation has been launched after thieves used a forklift-type vehicle to steal a cash machine from an Aberdeenshire village shop.
Officers were called to the Scotmid store at Craigour Road in Torphins at about 01:30 on Thursday.
The ATM, a red Manitou telehandler, a dark Ford Galaxy and a gold Chrysler Voyager - believed to be the getaway car - were found nearby.
However, it is believed the thieves did not get any cash.
Roads were closed in and around the village as a result.
Police later told how a blue Mini One, registration number SB63 XDJ, was also stolen from Torphins overnight.
It has yet to be found and officers want to trace it urgently.
Det Insp Fionnuala McPhail said it was believed the thieves used a stolen digger to force entry.
She said: "First of all I would like to thank the local community for your assistance so far. Crimes of this nature are extremely rare in such a quiet village and I really appreciate your patience and co-operation while we've carried our inquiries out.
"I would also like to thank those who took it upon themselves to capture footage at the scene during the break-in.
"I would never, ever encourage anyone to put themselves in harm's way, however, I must commend the brave attempt of one woman in particular who put her own safety to one side to take pictures of the incident taking place.
"From reviewing the footage available to us I don't believe that those involved in this crime intended on causing any harm to a person, however this lady wasn't to know this at the time.
"I am just extremely thankful that no-one was injured."
Det Insp McPhail said three males appeared to be involved in the raid.
She said: "I continue to appeal to anyone with information relating to this incident either before, during or afterwards to get in touch as soon as possible if you haven't spoken to the police yet.
"We are particularly interested in establishing the movements of a gold Chrysler and dark Galaxy people carrier as well as receiving any information about the individuals involved.
"Some degree of planning and organisation obviously went into committing this crime, however the resulting attempt was crude.
"While our investigation continues I would ask all retailers who have ATM machines not to panic but to use this as an opportunity to ensure you have appropriate security measures in place.
"The north east is a low crime area but it doesn't mean criminals won't come into our communities and take advantage of the law-abiding people who live and work in them.
"I would urge anyone who saw anything suspicious in the area to get in touch."