Brunei honour from University of Aberdeen reviewed over gay stoning law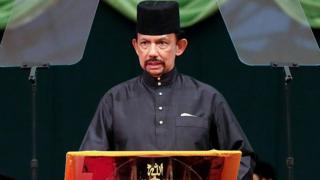 An honorary degree awarded by the University of Aberdeen to the Sultan of Brunei is under review as his country makes gay sex an offence punishable by stoning to death.
The strict new Islamic laws that come into force on Wednesday also cover a range of other crimes including punishment for theft by amputation.
It has sparked international condemnation.
The university said Hassanal Bolkiah's 1995 honour was under urgent review.
Homosexuality was already illegal in Brunei and punishable by up to 10 years in prison.
Brunei's gay community has expressed shock and fear at the "medieval punishments".
The university told The Times the issue would be urgently raised with its degrees committee.
It said in a statement: "The University of Aberdeen is inclusive and open to all.
"In light of this new information, this matter will be raised as a matter of urgency with the University's Honorary Degrees Committee."
'Take a stand'
Honorary degrees were awarded by the university to a number of international dignitaries in 1995.
The University of Aberdeen previously operated an exchange programme with its counterpart in Brunei and the Sultan had encouraged links between Brunei and Aberdeen, as well as taking interest in research in geology and petroleum engineering because of the importance to the oil industry.
University of Aberdeen rector Maggie Chapman, co-convenor of the Scottish Green Party, told BBC Scotland of the review: "I think absolutely it's the right approach.
"Honorary degrees are given in recognition of great achievement, of great work, but we cannot as an institution say that those are not affected by broader concerns.
"The recent changes to the law in Brunei against people who identify as different sexualities is just completely unacceptable.
"We really, really have to take a stand on this, and stand in solidarity."
Aberdeen University LGBTQ+ Forum said in a statement: "We would like to express how horrified we were to learn of the news of the implementation of these laws in Brunei.
"We believe that the university should make steps to reconsider the Sultan's honorary degree."
The Aberdeen University Students' Association (Ausa) said: "Implementing this law is completely out of line with the principles and values of Aberdeen University Students' Association and the University of Aberdeen.
"Such discrimination and violence has no place in modern society and the University of Aberdeen must urgently review any links they have with this individual."
Brunei, a nation state on the island of Borneo, is ruled by Sultan Hassanal and has grown rich on oil and gas exports.