Reduced A96 dualling options unveiled by Transport Scotland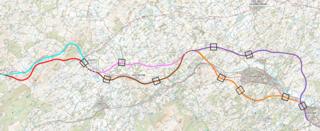 The reduced number of potential routes for dualling the A96 between Huntly and Aberdeen have been unveiled by Transport Scotland.
The options for the 26-mile section of the road include two potential ways to bypass Inverurie.
There has been opposition from farmers and local residents over routes skirting the north of the town.
The two remaining options are a corridor to the south of Inverurie and one to the north.
Public engagement events got under way on Tuesday in Inverurie.
One farmer at the first drop-in session told BBC Scotland the proposals could be "devastating" as the road could pass through farmland where his family had worked since 1948.
It is hoped a preferred option for the route will be identified by the end of the year.
Proposals that could have seen an upgraded A96 pass through the Bennachie Special Landscape Area were previously taken off the table.
Transport Secretary Michael Matheson said: "Having let local communities see and comment on a series of options last October, we have now reduced the number of options for this challenging section of the A96 and have made some changes to the options being taken forward as a result of the feedback we have received.
"The preferred option will be comprised of a combination of the remaining sections to form a continuous route between Huntly and Aberdeen."