Lossiemouth's East Beach evacuated after safety concerns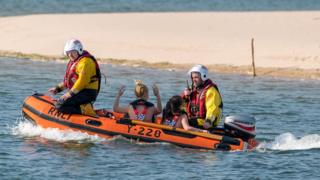 Emergency services evacuated 30 people from a beach in Lossiemouth following concerns they would become stranded.
The footbridge to East Beach was closed on Wednesday when structural engineers ruled it was unsafe.
People wanting to reach the beach waded across the river to avoid a detour.
But the beachgoers were brought back from the beach by the RNLI and the Coastguard for their safety, following concern they would be stranded when the tide changed.
Moray Council said an inspection of the crossing to East Beach in Lossiemouth was carried out on Wednesday afternoon following concerns raised by members of the public.
The bridge was seen to be leaning to one side.
The council said the sheer number of people crossing the footbridge had led to its condition deteriorating.
The local authority said East Beach was still accessible via Lossiemouth forest car park - known as Arthur's Bridge - three miles away, and Kingston, seven miles away.
The advice was for people not to wade across if there is a risk of them becoming stranded when the tide changes, but if they made that decision then they did so at their own risk.
Thursday's high temperatures meant dozens flocked to Lossie Beach, and Burghead Coastguard team and Buckie's lifeboat crew assisted them back across their water for their own safety.
'Not safe'
Moray Council Convener Shona Morrison, said: "Moray Council has obligations to ensure public safety. This includes a requirement to close any structures that appear unsafe, hence the decision was taken to close the bridge, which was the responsible course of action.
"Elected members and council officers are liaising with Lossiemouth Community Council, Lossiemouth Community Development Trust and Lossiemouth Business Association to consider future action.
"This is likely to require independent structural engineering advice.
"Meantime I would urge people to refrain from climbing on or attempting to access the bridge as we have had some reports of this since the closure. It is not currently safe for this kind of activity."
A survey commissioned by Lossiemouth Community Trust in 2017 had warned work would be needed to be carried out.