Elderly woman in hospital after Shetland explosion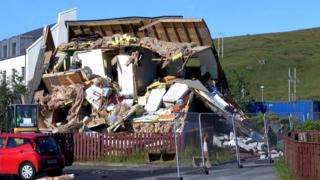 An elderly woman has been taken to hospital after a suspected gas explosion in Shetland.
A house in the village of Brae on Mainland was largely destroyed by the blast which happened at about 14:15.
The Scottish Ambulance Service said it was called to a property at Ockragarth, a cul-de-sac in the village.
A woman in her 80s was taken to Gilbert Bain Hospital in Lerwick. Her condition is not known. Her grandson was also in the house.
Neighbours Phil Smith and his daughter Georgia heard the explosion.
'Ginormous bang'
Ms Smith told BBC Scotland: "We were sat in the back garden and heard this ginormous bang. My dad instantly thought 'gas'.
"I came running round and saw what was left of the house. The young chap was upstairs in his bedroom. He came rolling out, covered in everything."
He told her his grandmother was in the house.
"She was in the kitchen," she said. "A couple of people were in there treating her. It looks like she took the brunt of it."
Mr Smith added: "I couldn't believe what I saw. I didn't expect to see that."